A delicious and healthy mor kuzhambu best served with hot rice.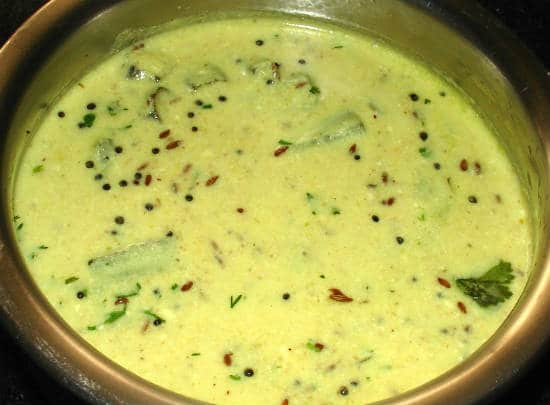 Ingredients:
Senai Kizhangu (Elephant Yam) – 100 gms
Rice – 1 tsp
Peppercorns – 20 to 25
Mustard Seeds – 1/2 tsp
Fenugreek Seeds – 1/2 tsp
Buttermilk – 250 ml
Oil – 1 tsp
Salt as per taste
Method:
1. Heat oil in a pan.
2. Fry the peppercorns for a minute and remove.
3. Mix with rice and grind to a fine powder.
4. Peel and finely chop the yam.
5. Boil until tender.
6. Mix salt, ground pepper, boiled yam and buttermilk in a pan.
7. Simmer over medium flame.
8. Fry the mustard seeds and fenugreek seeds in little oil.
9. Add the mor kuzhambu and stir.
10. When it starts to bubble, remove from flame.
11. Serve hot with rice.