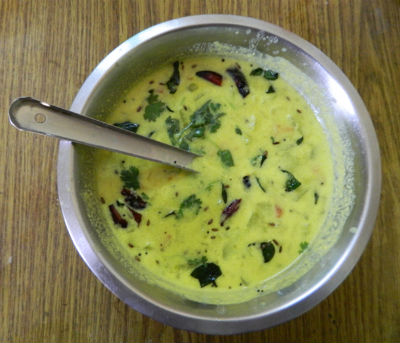 Ingredients:
Toor Dal – 100 gms, cooked
Red Radish – 250 gms, chopped, boiled (you can also pressure cook for 1 whistle)
Plain Yogurt – 500 ml
Green Chillies – 2
Turmeric Powder – as required
Salt – as per taste
Mustard Seeds – little
Oil
Grind together:
Urad Dal – 1 tblsp
Dry Round Red Chillies – 4
Coriander – 1 tblsp
Coconut – 1 cup, grated
Rice Flour – 1 tblsp
Method:
1. Roast all the ingredients except coconut in a pan.
2. Add coconut and grind.
3. In a deep pan combine the cooked dal, yogurt, green chillies and radish over moderate heat.
4. Add the ground ingredients and stir well. Add salt and turmeric powder.
5. Heat mustard seeds in little oil and pour over the kuzhambu as soon it starts to splutter.
6. As soon as it starts to boil, remove from heat.
7. Serve hot with rice.
Note: image is for illustration purposes only and not that of the actual recipe.