A great way to enjoy the hot summer days.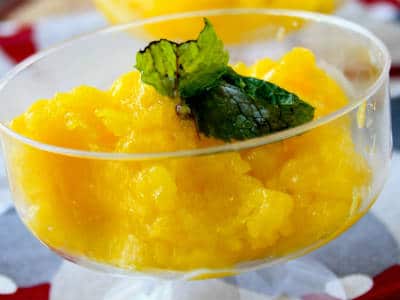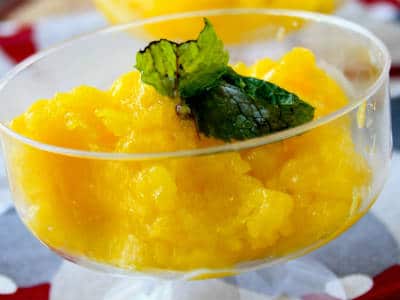 Ingredients:
Ripe Mangoes – 2 cups, peeled, chopped
Sugar – 1/2 cup
Lemon Juice – 2 tsp
Ginger – little, grated
Mint Leaves – few, to garnish (optional)
Method:
1. Grind the mangoes and ginger together to a smooth paste.
2. Pour 1/2 cup of water to sugar and bring to a boil.
3. Stir well until all the sugar has dissolved.
4. Add the ground mango puree and mix.
5. Remove and cool.
6. Add the lemon juice and keep it in the freezer.
7. Stir once or twice in-between and freeze for 4 to 6 hours.
8. Scoop into serving glasses and garnish with a mint leaf.
9. Serve as a dessert.