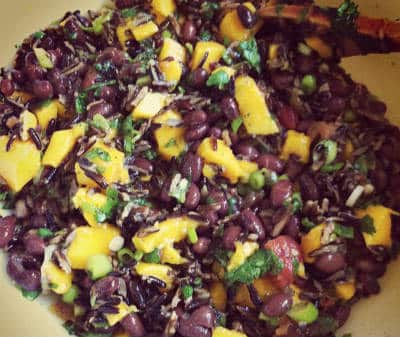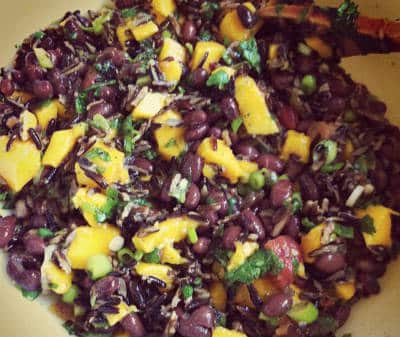 Ingredients:
Sweetcorn Kernels – 1/2 cups, boiled and drained
Black Beans – 500 gms, soaked, drained, rinsed
Lime Juice – 1/4 cup
Spring Onions – 4, chopped
Red Chillies – 2, deseeded, chopped
Mangoes – 250 gms, chopped
Coriander Leaves – handful, chopped
Salt as per taste
Black Pepper Powder as per taste
For the dressing:
Plain Yogurt – 200 gms
Cumin Powder – 1 tsp
Lime Juice – 1 tblsp
Method:
1. Mix the dressing ingredients in a bowl and keep aside until required.
2. Mix the sweetcorn, black beans, lime juice, red chillies, mangoes, spring onions and coriander leaves in a bowl.
3. Sprinkle black pepper powder and salt.
4. Gently mix well.
5. Add the dressing to the salad and mix well just before serving.
6. Serve at once.
image via flickr: https://www.flickr.com/photos/[email protected]/7813019518/