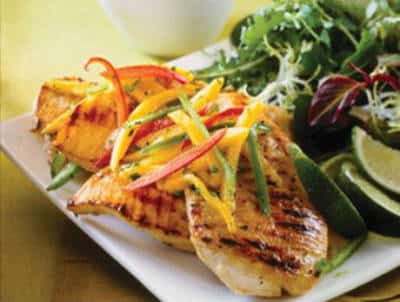 Ingredients:
Chicken – 500 gms, chopped into bite sized pieces
Coriander Leaves – 1 cup, chopped
Parsley – 1/2 cup, chopped
Garlic – 2 cloves, crushed
Ginger – 1/2 inch piece, peeled, chopped
Green Chilli – 1, small, chopped
Soy Sauce – 3/4 tblsp
Kaffir Lime Leaf – 1, chopped
Grated Zest and Juice of 1 Lime
Sunflower Oil – 50 ml
For the Mango Salsa
Mango – 1, chopped
Cucumber – 1/2 cup, seeds removed, chopped
Spring Onions – 2, chopped
Red Chilli – 1, small, chopped, seeds removed
Juice of 1/2 Lime
Olive Oil – 1 tblsp
Method:
1. Combine all the ingredients except chicken in a blender and belnd to a fine paste.
2. Make small incisions on the chicken and rub the ground marinade paste all over.
3. Cover and keep it in the fridge for 4 to 6 hours.
4. Meanwhile, combine all the mango salsa ingredients and mix well.
5. Remove the chicken and place it on a baking tray.
6. Place the tray in a preheated oven at 350F/175C and bake for 40 minutes, turning once or twice, until cooked.
7. Remove and place it on a wire rack for 4 to 5 minutes.
8. Serve with mango salsa.
Note: image is for illustration purposes only and not that of the actual recipe.
Image credit