A simple evening snack with chicken. Best served with chutney or sauce.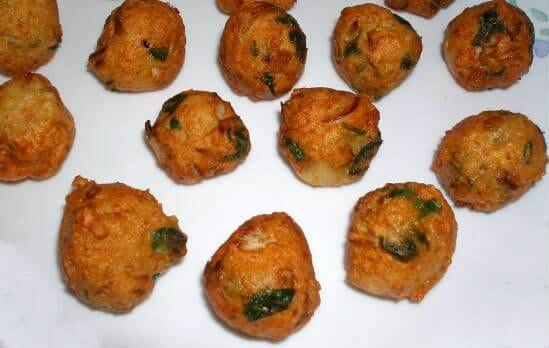 Ingredients:
Minced Chicken – 500 gms, boneless, skinless
Sambar Onions (Shallots) – 100 gms
Gram Flour – 500 gms
Turmeric Powder – 1 tblsp
Garam Masala Powder – 1 tblsp
Red Chilli Powder – 1 tblsp
Dry Red Chillies – 4
Garlic Paste – 2 to 3 tsp
Curry Leaves – handful
Saunf – 2 tblsp
Peppercorns – 2 tblsp
Coconut – 3 tblsp, grated
Roasted Gram – 100 gms
Ginger – 2 inch piece
Coriander Leaves – few, chopped
Salt as per taste
Oil as required
Method:
1. Combine the chicken, onions, roasted gram, red chillies, saunf, turmeric powder, ginger, garlic, peppercorns and garam masala powder in a large bowl.
2. Add salt, coconut and curry leaves.
3. Mix well and transfer to a blender.
4. Blend to a thick, smooth (or slightly coarse) paste.
5. Heat little oil in a pan.
6. Add the ground chicken mixture, curry leaves and coriander leaves.
7. Stir-fry for a minute or two.
8. Remove and cool.
9. Make small balls of the mixture and keep aside.
10. Add enough water to gram flour and mix to a thick batter.
11. Add some salt, turmeric powder and red chilli powder if desired.
12. Heat oil in a deep frying pan over medium flame.
13. Dip the prepared balls in the batter and gently add them to the hot oil.
14. Fry until light golden brown.
15. Remove and drain excess oil.
16. Serve as a snack with chutney or sauce.