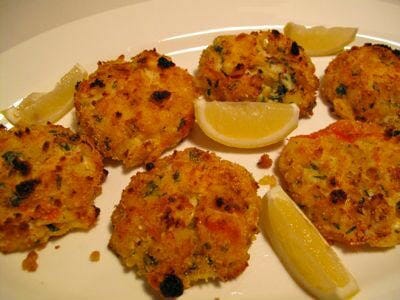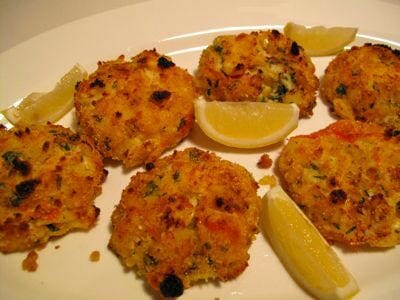 Ingredients:
White Fish Fillets – 3 cups, firm, chopped
Prawn – 1 kg, chopped, shelled, deveined
Coconut Milk – 1/2 cup
Red Curry Paste – 1/4 cup
Brown Sugar – 2 tblsp
Sesame Oil – 4 tsp
Thai Fish Sauce – 2 tsp
Coriander Leaves – 1/2 cup (few reserved for garnish)
Lime Wedges to garnish
Method:
1. Grind half of the fish, prawn, coconut milk, coriander leaves, red curry paste, sugar, oil and fish sauce till smooth.
2. Transfer to a bowl.
3. Add the remaining prawns and fish.
4. Make small balls of this mixture and flatten them lightly.
5. Place them on a greased baking tray.
6. Bake for 15 to 20 minutes or until cooked.
7. Remove and transfer to a serving plate.
8. Garnish with coriander leaves.
9. Serve hot or cold with lemon wedges.