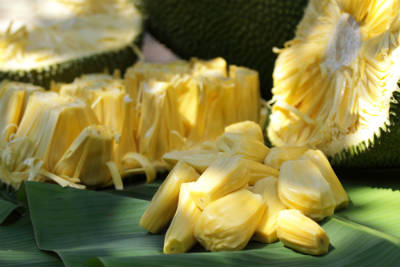 Ingredients:
Baby Jackfruit – 1/2, peeled, steam cooked and chopped
Oil – 2 tsp
Dry Red Chillies – 2
Curry Leaves – few
Mustard Seeds – 1/4 tsp
Onion – 1, julienned
Salt – 1/4 tsp
Juice of 1/2 Lime

For the masala:
Coriander Seeds – 1/2 tsp
Black Peppercorns – 1 tsp
Cinnamon – 1/4 inch stick
Coconut – 1/2 cup, grated
Garlic – 3 to 4 cloves
Ginger – 1/4 inch piece
Turmeric Powder – 1/4 tsp
Salt as per taste
Method:
1. Dry roast all the masala ingredients and grind to a fine paste.
2. Heat oil in a pan.
3. Fry the curry leaves, red chillies and mustard seeds for 30 seconds.
4. Saute the onions till soft and light golden.
5. Add the ground masala and a little water.
6. Stir well and cook till the oil starts to rise to the top.
7. Add the jackfruit pieces and fry for a minute.
8. Add salt and pour 1/2 cup of water.
9. Cover the pan with a lid and cook till the gravy is thick and jackfruit is tender.
10. Remove and serve hot with rice.

Tip: To steam cook, bring a pan of water to a boil. Add the jackfruits to a sieve and place it on the pan. Ensure the water does not touch the jackfruits. Cover and reduce flame to low. Cook till tender.
Note: image is for illustration purposes only and not that of the actual recipe.