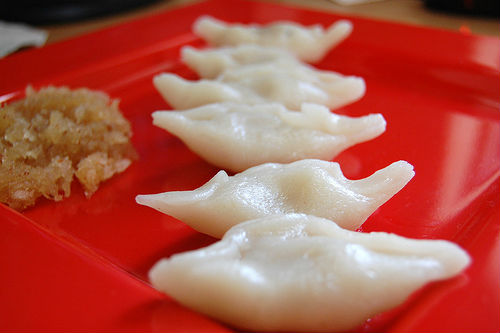 Ingredients:
Raw Rice – 500 gms, washed, soaked for 2 hours
Coconut – 2, medium, finely grated
Tamarind Extract – 1 1/2 to 2 cups
Salt as per taste
Oil as required
Mustard Seeds – 1/2 tsp
Urad Dal – 2 tsp
Bengal Gram Dal – 3 tsp
Green Chillies – 3, chopped
Dry Red Chillies – 5, broken
Curry Leaves – handful
Method:
1. Mix the soaked rice and grated coconut.
2. Grind to a coarse paste.
3. Heat oil in a pan.
4. Add the mustard seeds, dals, green chillies, dry red chillies and curry leaves.
5. Fry for 30 seconds and pour the tamarind extract into the pan.
6. Add salt and the ground rice-coconut paste.
7. Stir well until a consistency similar to upma (lightly sticky and thick) is achieved.
8. Keep aside to cool.
9. Make cylindrical shaped balls and steam cook for 15 minutes.
10. Serve hot or warm.
Note: image is for illustration purposes only and not that of the actual recipe.