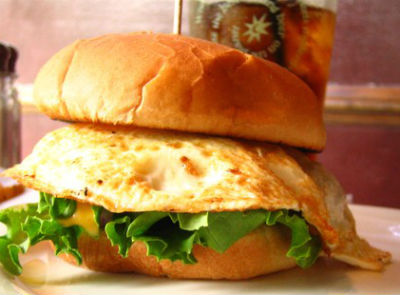 Ingredients:
Burger Buns – 4, halved
Eggs – 4
Potatoes – 2, big, boiled and mashed
Carrot – 1
Onions – 2 (1 finely chopped + 1 cut into rings)
Cucumber – 1, peeled, cut into rounds
Tomato – 1, cut into rounds
Black Pepper Powder – 1/4 tsp
Butter – 2 tsp
Oil as required
Salt as per taste
Method:
1. Beat the eggs with salt and pepper powder. Keep aside.
2. Heat little oil in a pan.
3. Saute the finely chopped onions.
4. Add to the eggs mixture along with the mashed potatoes.
5. Heat a tawa over medium flame.
6. Add a little oil and make omelettes of the mixture.
7. Apply butter on the buns and toast the insides for 30 seconds.
8. Place an omelette on the bottom half of the bun.
9. Place a slice of cucumber, tomato and onion ring.
10. Cover with the top half of the bun.
11. Serve at once with ketchup.
Tip: If desired add lettuce leaves, cheese slices, ketchup and mustard to the burger.
image credit: restaurantwidow.com