A traditional Kerala breakfast dish.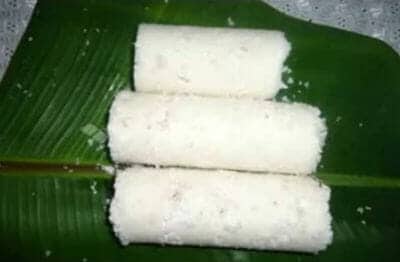 Ingredients:
Raw Rice Flour – 1 cup
Brown Sugar – 1/2 cup
Coconut – 1/2 cup, grated
Cardamom Powder – 1/2 tsp
Ghee – little
Cashewnuts – 8
Salt – a pinch
Method:
1. Dry roast the rice flour in a pan.
2. Combine the sugar, coconut and cardamom powder in a bowl.
3. Add salt and little water to the rice flour.
4. Mix well and keep aside for 10 minutes.
5. Add some of the rice mixture to a puttu maker and add the coconut mixture on top.
6. Top up with the rice mixture and coconut mixture so that there are 4 distinct layers – rice, coconut, rice and coconut.
7. Steam cook for 2 to 3 minutes.
8. Remove the puttu and transfer to a plate or banana leaf.
9. Heat ghee in a small frying pan.
10. Fry the cashewnuts and garnish the puttu with this.
11. Serve.