In today's fast-paced world, most of us have limited time to cook, but we do want to eat healthy and delicious foods. Every effort has been made to prepare dishes in a time-efficient manner. Here are some universal tips to prepare meals in 30 to 45 minutes. Of course, there are dishes and meals that take a longer time and should be prepared when you have the time and feel creative.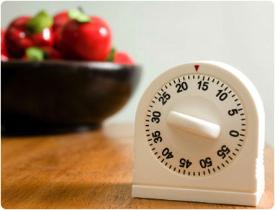 Keep the ingredients on hand. Indian cooking uses many dried ingredients, which can be stored for a long time. For perishables, shop only once or twice a week to save time as well as money.
Clean and chop vegetables. To save time, I usually clean and chop the whole package of vegetables at one time and refrigerate small portions in sealed plastic bags. If you do not have the time or do not like to mess with chopping vegetables, many grocery stores now carry chopped vegetables, which are convenient and quick to use. The taste of fresh vegetables cannot be duplicated; spend a little extra on fresh ingredients and taste the difference.
Use frozen vegetables. Keep a good supply of frozen vegetables; they are a convenient substitute for fresh vegetables. I especially like to keep frozen peas, green beans, mixed vegetables, and spinach on hand.
Keep a running grocery list. Encourage family members to add items to the grocery list as needed. This is especially helpful if you have more than one cook in the house.
Plan meals for the upcoming week. Sometimes it takes longer to decide what to cook than cooking itself. Add ingredients to the shopping list as you plan your menus.
Freeze extras for rainy days. Double the recipe and freeze the extra for those days when nobody can or wants to cook. However, remember not all things freeze well. Buy garlic paste and substitute for fresh, if desired.
Freeze ginger or use ginger paste. Preparing ginger can take time. I keep frozen ginger on hand to save time. To freeze ginger, purchase ⅛ to ¼ kg of fresh, tender ginger. Peel and grate or chop the ginger. To grate ginger, grate with the grain to minimize the fiber that comes out. Finely chop the ginger and freeze it. Divide the ginger into approximately 1-teaspoon portions, placing them on a plate lined with plastic wrap and freezing it. When it is completely frozen, remove it from the plastic wrap and store in a sealed plastic bag or container. It will take time initially, but on a daily basis it saves a lot of time.
Prepare and freeze onion masala. Chopping, grinding, and cooking the onion masala takes time. Thaw frozen masala in the refrigerator overnight or in a microwave prior to using. Using frozen masala can save a significant amount of time without altering the taste of the prepared dish.
Do you have any other tips to share on how to save time in the Kitchen? Share it with us via comments or via our Facebook Fan Page.
image credit:- latinafresh.com.au