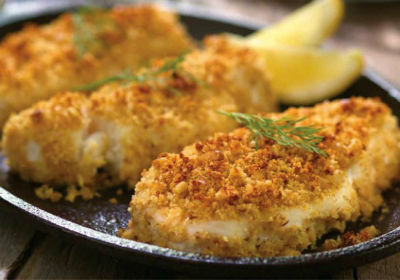 Ingredients:
White Fish – 500 gms, firm, cut into bite-sized pieces, cleaned, washed
Butter – 1 tsp
Lime Juice – 1 tblsp
Coriander Leaves – 2 tsp, chopped
For the marinade:
Oil – 2 tsp
Garlic – 5 cloves
Onion – 1, medium, finely sliced
Cumin Seeds – 1/4 tsp
Coriander Seeds – 1/2 tsp
Turmeric Powder – 1/4 tsp
Red Chilli Powder – 1/4 tsp
Dry Ginger Powder – 1/4 tsp
Dry Mango Powder – 1/2 tsp
Green Chillies – 2
Coriander Leaves – 2 tsp, chopped
Salt – 1/2 tsp
Lime Juice – 2 tsp
Ghee – 1/2 tblsp
Method:
1. Heat oil in a pan.
2. Fry the garlic cloves till golden brown.
3. Remove and keep aside.
4. Add the onions and saute until dark brown.
5. Remove and drain excess oil.
6. Grind the garlic and onions to a mixer jar.
7. Dry roast all the other marinade ingredients except ghee and lime.
8. Add to the mixer jar along with ghee and lime juice.
9. Grind to a fine paste.
10. Place the fish in a greased baking tray and add the marinade.
11. Gently mix well to coat the pieces evenly and squeeze lime juice on top.
12. Sprinkle with coriander leaves and some butter.
13. Place the tray ina preheated oven at 160C/320F and bake for 10 to 15 minutes or until cooked.
14. Remove and serve hot.
Note: image is for illustration purposes only and not that of the actual recipe.