Easter is the time to enjoy and relish different delicacies after the lent days of prayer and penance. Since it is in commemoration of the resurrection of Jesus Christ, people celebrate Easter with a holiday spirit, reveling in unique varieties of brunches, dinners, bread baskets and desserts. Let us see how we can make this Easter unique with different varieties that are awesome, lip smacking and wonderful in shape and flavor.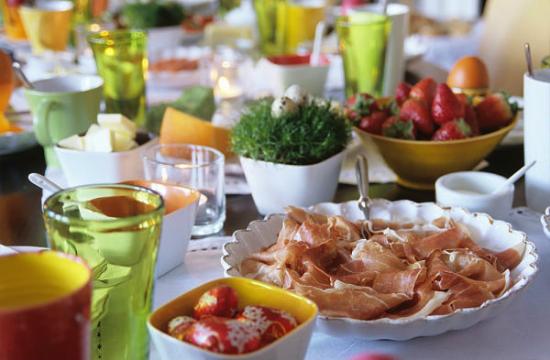 Appetizers
Easy appetizers which are easy to prepare, yet savor great give a good start for the brunches and dinners. Spinach salad with sweet roasted peacon can be a good option for you in choosing your appetizer for Easter. Baked spinach and pecan is garnished with shallot, vinegar and sugar to make a tasty appetizer. Or it can be deviled eggs which is quick in preparation; a mixing up of all the ingredients like the yolks of hard boiled eggs, mayonnaise, dried parsley flakes, salt, pepper, dill weed, garlic powder, paprika and parsley. When cooled in a fridge it adds to the flavor and makes a tasty appetizer.
Dinners and Brunches
Easter without ham, chicken and lamb is unimaginable. A honey glazed ham in the dinner menu suits the occasion and you can buy ready to serve ham to lessen your burden and enjoy the day with others. Ham in the combination of honey, cloves, corn syrup and butter makes a rich combination of color, flavor and sweet savoring. If you go in for mint crusted rack of lamb, you can surely taste a delicious food. It is a fine combination of browned lamb racks brushed with mustard and honey mixture. If chicken is your favorite and the partying dudes also love that, you can try roasted lemon herb chicken. You taste the roasted chicken stuffed with the mixture of Italian seasoning, garlic powder, salt, pepper and mustard powder. The savor is enhanced by the addition of lemon juice to make the dish wholesome and tastier. You can choose the side dishes as oven roasted red potatoes or broccoli with lemon sauce. Mashed cauliflower au gratin also goes for a good side to complement the main menu.
Start your brunch with a croissant French toast, which is topped with raspberry sauce and vanilla sauce that has ice-cream. Blueberry cheesecake flapjacks are ideal for the brunch. A combination of frozen blueberries and pancakes with the topping of cream cheese and whipped topping is wonderful to look and awesome to eat. If you try spiral omelet supreme, you are sure to be in a wonderland of tasty egg variety. It is an omelet with vegetable mixture, Mozzarella cheese, Italian seasoning and tomatoes.
Bread Baskets, Cupcakes and Bunny Models
Cupcakes with bunny model are all time favorites of kids, who enjoy eating the cakes with their favorite playtime animal shape. Bunny biscuits, cinnamon roll bunnies or cute bunny breads can form the center of attraction on the dining table not only for the kids, but also for the oldies. These bunnies can be chubby ones, or wrapped in carrots, or in pear salads or form pineapple smoothies. They tempt the eyes and the hearts to taste and remember Easter Sunday lunch for the on coming days too.
Easter Desserts
Slice and bake lemon gems suit the most as Easter desserts. These are cookies beaten with lemon peels, rendering a pungent flavor to the dessert. If you have peeps sunflower cake, it is wonderful to look and decorates the table well. The yellow cake mix stands on the base of chocolate frosting to look like sunflower standing on your Easter table. Or it can be nests raspberry and chocolate nests to make the dessert for the day. The cocoa and raspberry combination works wonders to feast your tasty buds.
Well, it is all feasting and feasting after a time of prayer and penance. Easter Sunday stands for holidaying, feasting and merry making. Let us enjoy it to the core with novel items of food that satisfy our hearts and tongues.