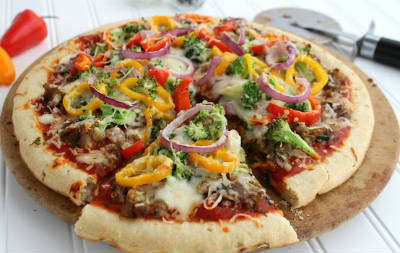 Ingredients:
Pizza Dough – 1, readymade or homemade
Olive Oil – 1 tsp
Red Capsicum – 1, cut into strips
Garlic – 1, small, crushed
Broccoli Florets – 225 gms, steam cooked
Tomato Sauce – 1/4 cup
Basil Leaves – 1/4 cup, chopped
Salt – a pinch
Mozzarella Cheese – 1/2 cup, shredded
Method:
1. Heat olive oil in a pan over medium flame.
2. Saute the garlic and capsicums for a minute or two.
3. Add the cooked broccoli florets, salt and mix well.
4. Apply tomato sauce on the pizza dough.
5. Add 2 or 4 tsp of the broccoli mixture on top.
6. Sprinkle basil leaves and cheese.
7. Place the pizza on a baking tray and bake in a preheated oven at 450F/225C for 20 minutes or until the crust is golden and crisp.
8. Remove and slice.
9. Serve.
Tip: If desired you can add sliced onions.
Note: image is for illustration purposes only and not that of the actual recipe.