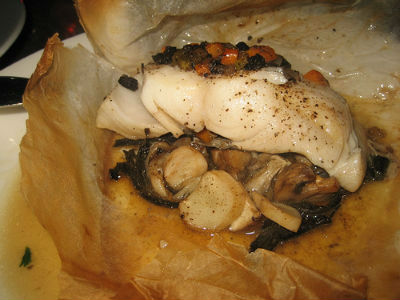 Ingredients:
Cod or Haddock – 225 gms, cleaned, cut into 6×2 inches thick
Ginger – 1 one inch peice, finely sliced
Spring Onions – 1, cut into one inch pieces
Oil for deep frying + 3/4 tblsp
Grease-proof Paper cut into 8×8 inches, brushed with oil
Salt – 1/4 tsp
Light Soy Sauce – 3/4 tblsp
Dry Sherry Wine – 1 tblsp
Cornflour – 1/2 tsp
Sesame Oil – 1/2 tsp
Method:
1. Mix salt, soy sauce, dry sherry, cornflour, 3/4 tblsp oil and sesame oil in a bowl.
2. Marinate the fish pieces in this for 10 minutes.
3. Place 1 or 2 pieces of fish on each paper.
4. Keep 1 or 2 slices of ginger on one side and spring onions on the other.
5. Fold into envelopes.
6. Heat oil in a heavy bottomed pan over medium flame.
7. Deep fry and unwrap the fish in hot oil and place them on kitchen paper to drain.
8. Transfer to a warm plate and serve hot with chilly sauce.
Note: image is for illustration purposes only and may not be that of the actual recipe.