Ganesh Chaturthi also known as Vinayaka Chaturthi is the birth anniversary of the most famous religious deity of the Hindus. Lord Ganesh has a universal appeal. In North India, where the festival lasts for 10 days, Ganesh Chaturthi is celebrated with impressive processions, lots of sweets and huge idols of Lord Ganesh. On the last day of the celebrations, the idols of Lord Ganesh are taken in grand processions and then dissolved in the sea/lake/river waters. One could hear slogans during the processions like this – Ganapathi papa Moriya, Agle baras tu jaldi aa… In South India, though, this is celebrated on a single day. This is a time for a lot of cultural activities.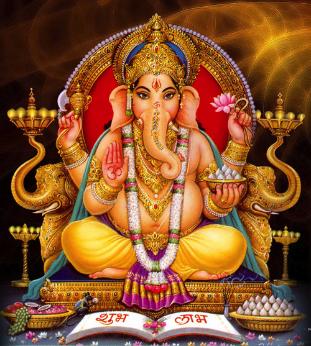 And of course, when there is a festival, when we all get together, we are happy, we are in the divine thought, we do need to do it in the most tongue tickling way. Yes, we have brought out a list of recipe collections to be prepared on Ganesh Chaturthi. Why don't you check it out and make your task simpler this year.
Vella Kozhakattai, the most famous dish to be prepared on this day is one the favorite of Lord Ganesh. In fact in most pictures and symbolic representations, Ganeshji is found to be having kozhakattai or modaks as they call it in North India.  Kozhakattais are rice flour dumplings stuffed with a mixture of coconut, jaggery, condiments and flavors. In Tamil Nadu it is steam cooked. In a few other states this is fried.
In Karnataka, the Kozhakattais are called Karjikai which is crispy on the outside and has a sweetened coconut filling on the inside.
Thengapaal kozhakattai which is basically, rice dumplings in coconut milk is also a delicacy prepared on this day. It used to be a strenuous recipe, but here at awesome cuisine, this is simplified with the same authentic traditional taste. So, check it out here.
Uppumavu kozhakattai is a spicy rice dumpling dish unlike the above two sweet dishes. But this is also a rage on this festival day. Even children who detest the usual upuma absolutely love this because of its unique shape and great taste.
Urundai kozhakattai is also a festival recipe with all the goodness of Bengal gram, coconuts and broken rice. This is also absolutely unique in taste and Ganeshji loves it.
Ellu kozhakattai, yet another tasty sweet is prepared on this day which is full of the nutrition of sesame seeds.
There, we brought out at least five of the most popular kozhakattai recipes here.
And now we move onto those recipes, other than kozhakattais.
Kai Murukku, a famous for all south Indian festivals, and especially so on Krishna Jayanthi and Ganesh Chaturthi are a crispy savory and all time favorite snacks. Do not miss it out.
Which festival is complete without Payasam or Kheer as they call it in North India. And here we have chronicled all the varieties of payasams/kheers prepared on Ganesh Chaturthi all over India.
Choose your favorite picks from Moong Dal Payasam, Gasa Gasa Payasam, Payatham Parupu Payasam, kadala parupu Payasam, paripu Payasam, Rice Payasam, badam Payasam, vermicelli Payasam and even Carrot cashew Payasam to impress the kids.
The North and West Indians especially love to prepare ladoos and impress the Lord with this delicacy of which there are numerous variations available like Motichoor Ladoo, Besan ka ladoo, Rava ladoo and so on. Did you know the significance of preparing ladoos and offering the same to Ganesha? Ladoo held in his trunk, signifies that one must discover the sweetness of the soul. Interesting, huh? So, why not check out all the ladoo varieties to find out your saccharine ness.
A very interesting South Indian dish, the Sundal, a favorite among both children and adults alike is definitely worth a mention. We have listed out all the sundal varieties here in this link. But a few tasty highlights are Chick peas Sundal, Kondai kadalai Sundal, Pattani Sundal, Kothu kadalai Sundal, Payatham parupu Sundal, Channa Sundal and for your reference, the plain Sundal. Oh yes, you definitely have to go to this page and check out all the sundal varieties and prepare those which your family can't stop praising about. And write to us about your adventures in pleasing your family. Oh, did I mention Sundal is richly high in proteins?
Are you guys waiting for this? Yes, the Vada! This loved recipe which is so popular all over India and abroad, amongst kids and adults, which has all the goodness of pulses. Lord Ganesh and we all love vada and the Lord especially loves the Medhu Vada. Your Ganesh Chaturthi is definitely incomplete without this crispy delicacy. A few other vada recipes listed in the Ganesh festival section are Rasa Vada, Curd vada, Masala Vada and Vazhaipoo (plantain flower) vada. For more vada recipes check this page. No festival is complete without the vada.
Happiness is the reason behind all celebrations. And good food and cheer is best way to make a person happy! So, what better motivation than this to login to AwesomeCuisine to celebrate your festivals?
Bring good luck and prosperity home, this festival season and rejoice the occasion with lip-smacking recipes posted here at your favorite culinary website
Happy Ganesh Chaturthi!