With a lusciously refreshing taste, we'd imagine you'd say 'no reasons needed to gulp on watermelon' ! But hey, did you know that this summer fruit ranks high on the list of world's healthiest foods! Yes, and also that watermelon is actually a special kind of berry? These and many other surprising facts about watermelon and its health benefits are little known. Here's presenting 8 solid reasons for you to get your fill of this summer cooler:
With a hard and tough rind and no internal partition, the watermelon is botanically called a pepo. Being a flowering plant the watermelon is thought to have its origins from southern Africa, where it is found growing wild and has the highest genetic assortment, with bland, sweet and bitter forms.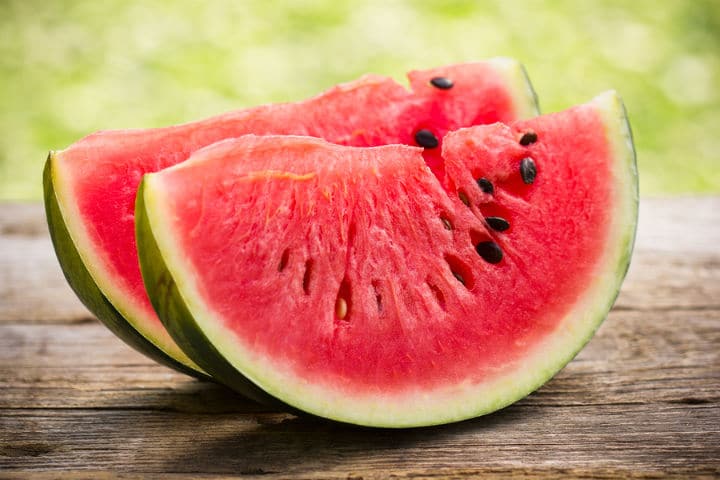 Keeps you hydrated:

Drinking water is the most important technique to keep your body hydrated. However, by eating foods that have a high water content can also help in hydration.
Fascinatingly, watermelons are 92% water.
High water content is one of the major reasons that certain vegetables and fruits help you feel a sense of fullness. The combination of fiber and water implies that you're eating a decent quantity of food without consuming a lot many calories. As for watermelon, it only contains 46 calories per cup.

Contains beneficial plant compounds & nutrients:

A cup of watermelon not only has 46 calories but also packs in a lot many nutrients as well, including these recommended daily intake (RDI) minerals and vitamins:

Potassium: 5% of the RDI.
Vitamin A: 18% of the RDI.
Magnesium: 4% of the RDI.
Vitamin C: 21% of the RDI.
Vitamins B1, B5 and B6: 3% of the RDI

In addition to being high in carotenoids, including lycopene and beta-carotene, watermelon also has an important amino acid named citrulline that may help increase nitric oxide, which lowers blood pressure and helps your blood vessels expand.

Improves heart health:

Being the number one cause of death worldwide, heart disease is the result of one's lifestyle. A proper diet might help lower blood pressure and cholesterol. Watermelon has numerous nutrients, which have specific benefits and aids for the heart health.
Studies propose that lycopene helps lower blood pressure and cholesterol and can also assist in preventing oxidative harm to cholesterol.

Lowers oxidative stress & inflammation:

Inflammation is a crucial and significant driver of many chronic diseases.
Watermelon helps lower oxidative damage and inflammation, since it's plush in the anti-inflammatory antioxidants like lycopene and vitamin C.
As an antioxidant, lycopene might also help brain health. It's quite possible to help delay the arrival and progression of Alzheimer's disease.

Comprises cancer preventing compounds:

Researchers have learned and studied other singular plant compounds and lycopene in watermelon for their anti-cancer outcomes.
Lycopene has been shown to diminish cancer risk by lowering the insulin-like growth factor (IGF), a protein that is involved in cell division. High levels of IGF have been linked to cancer.
Also, cucurbitacin E has been researched and investigated for its capability to prevent and obstruct tumor growth.

Helps relieve muscle soreness:

Watermelon juice is an excellent recovery beverage after your exercise routine. Citrulline is believed to be moderately responsible for easing and reducing muscle soreness and tenderness.

Excellent for your hair and skin:

The two main vitamins A and C found in the watermelon are important for your skin and hair health.
Vitamin C aids your body to make collagen, a protein, which helps keep your skin smooth and supple and your hair lustrous and strong.
Vitamin A is also equally important for healthy skin because it helps to create and repair skin cells. Your skin could look flaky and dry without adequate vitamin A.
Both beta-carotene and lycopene may help protect and guard your skin from sunburns.

Helps improve digestion:

Watermelon contains loads of water and a trivial amount of fiber — both of which are extremely important for healthy digestion.
Eating fiber-rich and water-rich vegetables and fruits, including watermelon, could be extremely beneficial for promoting bowel movements.
Notwithstanding popular belief that watermelon is made up of only sugar and water, the watermelon is essentially considered a nutrient intense food, which provides a high amount of minerals, antioxidants and vitamins for a very low amount of calories.
Watermelons have actually become synonymous with picnics and summers, and for good reason too. Their refreshing thirst-quenching quality and the sweet taste helps combat the summer heat and also provides a low maintenance, guilt-free dessert for adults and kids alike to enjoy. So get year fill of this tasty low calorie treat as long as its season lasts!