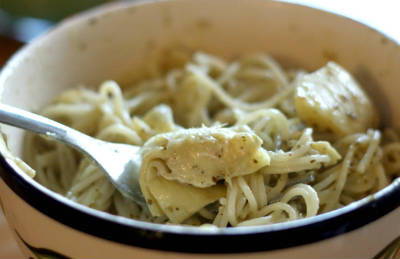 Ingredients:
Pasta – 125 gms, cooked as per packet instructions
Chicken Breast – 250 gms, chopped
Garlic – 1 clove, minced
Cream – 1/2 cup
Water – 1/2 cup
Paneer – 1/4 cup, chopped
Basil Pesto – 1/4 cup (available in most major stores)
Salt as per taste
Black Pepper Powder as per taste
Method:
1. Heat a nonstick pan over medium flame.
2. Add the garlic and stir until browned.
3. Add chicken and saute for 5 minutes or until cooked.
4. Add cream, water and paneer.
5. Mix well.
6. Add the basil pesto and cook for 5 minutes.
7. Sprinkle salt and pepper powder.
8. Add the pasta and mix until evenly combined.
9. Transfer to a bowl and serve at once.
Tip: Sprinkle a bit of parmesan cheese, if desired, before serving.
Image credit: Hungry Hannah