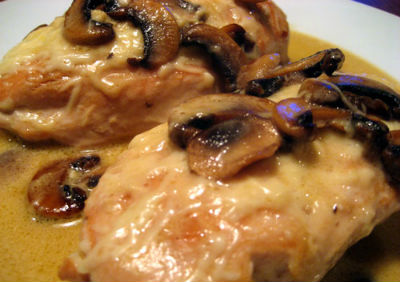 Ingredients:
Chicken Breast – 1, about 250 gms, halved, cut into 2 fillets
Olive Oil – 1 tblsp
Red Capsicum – 1, chopped
Onion – 1, small, chopped
Garlic – 1 clove, minced
Tomato – 1, large, peeled, coarsely chopped
Sherry Wine – 50 ml
Water – 50 ml
Olives – 5 to 8, stuffed
Salt as per taste
Pepper Powder as per taste
Method:
1. Heat olive oil in a pan over moderate heat.
2. Add the chicken breasts and fry lightly on both sides turning only once.
3. Ensure the chicken fillets do not brown.
4. Remove the chicken fillets and keep aside.
5. To the same pan, saute the onions and capsicums till soft.
6. Add the garlic and tomatoes.
7. Fry for a few minutes and add the sherry, water, salt and pepper.
8. Cook on medium heat for about 8 to 10 minutes.
9. Add the chicken fillets to the pan and reduce heat.
10. Cook over low heat for about 6 to 10 minutes.
11. Transfer to a serving dish.
12. Garnish with olives.
13. Serve hot with salad of choice and mashed potatoes.
Note: image is for illustration purposes only and not that of the actual recipe
Image credit: easy gourmet dinners blog .