A classic and iconic breakfast dish across the globe.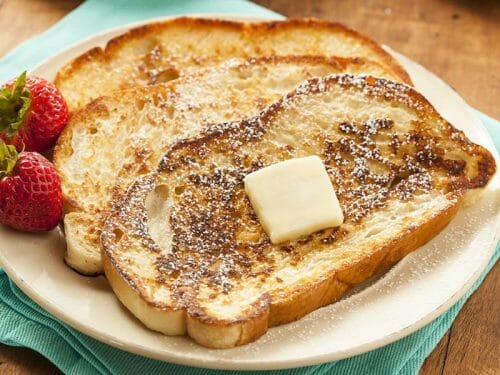 French Toast is one of the popular and oldest breakfast food in the world. Over the years the classic French Toast has given way to numerous versions that are popular in various parts of the globe.
The classic french toast recipe consists of bread slices dipped in a batter of egg, milk, sugar and flavorings. Then these slices are cooked on a griddle like a pancake.
Then it is sprinkled with powdered sugar and served with various syrups, preserves of fruits.
It is an easy and satisfying dish to make and is a great way to use up any leftover / stale bread.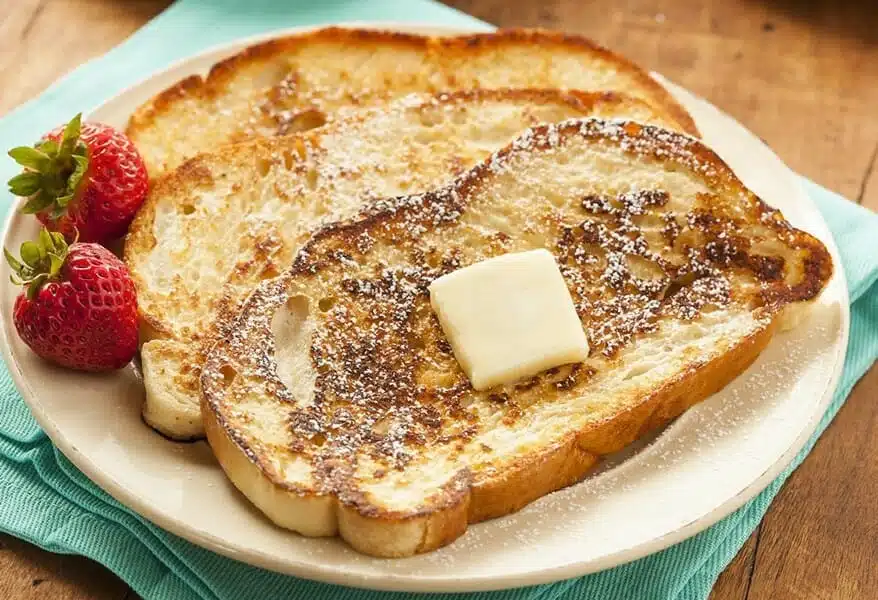 The dish has very few ingredients but a lot of people can get it wrong. The ideal french toast is crispy and browned on the outside and is neither too dry nor too soggy.
There are so many ways you can serve this classic breakfast-in-bed dish. Garnish with fresh fruit, maple syrup, honey, butter or cream.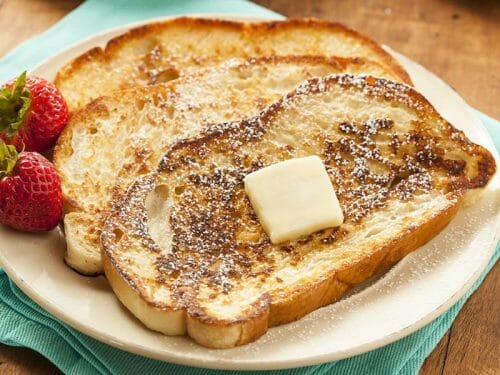 French Toast
A classic and iconic breakfast dish across the globe.
Ingredients
4

Bread Slices

1/2

cup

Milk

1

Egg

large

1/2

tsp

Vanilla Extract

1/2

tsp

Cinnamon Powder

a pinch

Salt

as required

Butter

1/2

tbsp

Honey or Maple Syrup

1/2

tbsp

Granulated Sugar
Instructions
Break the egg into a bowl and whisk well.

Add milk, salt, sugar, vanilla extract and cinnamon powder.

Mix well.

Dip the bread slices into this mixture on both sides and ensure they are well coated.

Melt butter in a large griddle pan (or a regular pan).

Shake off any excess mixture and place the bread slices.

Cook on medium flame until golden brown on each side, about 2 minutes per side.

Remove to a serving plate.

Sprinkle sugar on top.

Serve warm with maple syrup or honey or as desired.
There are numerous variations to this classic dish. Some of the popular types of French toasts are:
Crispy French Toast – Here the toasts are cooked until they extra crispy and crunchy.
Pineapple French Toast – pieces of pineapple are mixed with the egg mixture and beaten in a blender until smooth. The bread pieces are then dipped in this mixture, cooked on both sides and served with slices of pineapple.
Coconut Banana French Toast – coconut milk and pieces of banana are added to the egg mixture and blended until smooth.
Baked French Toast – The bread pieces are left to soak in the egg mixture overnight and then baked in a pre-heated oven at 220C for 10 minutes.
Eggless French Toast – This is an Indian variation to the classic dish. Instead of eggs, rava (sooji) and curd are used to make the batter.