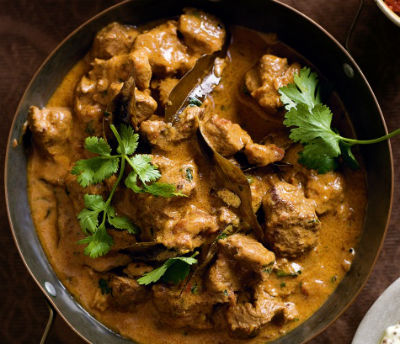 Ingredients:
Lamb – 500 gms, cut into bite-sized pieces
Ghee – 1/3 cup
Coriander Powder – 1 tsp
Ginger Paste – 1 tsp
Garlic Paste – 1 tsp, diluted with 1/3 cup water
Onions – 1 cup, chopped
Dry Red Chillies – 2
Red Chilli Powder – 1/2 tsp
Turmeric Powder – 1/4 tsp
Coconut Milk – 1 cup, thick
Black Peppercorns – 1/2 tsp, coarsely powdered
Lemon Juice – 1/2 tblsp
Salt as per taste
Method:
1. Heat ghee in a heavy-bottomed pan over medium flame.
2. Fry the red chillies for a minute.
3. Add the onions and saute till translucent.
4. Add the ginger paste and stir for 30 seconds.
5. Add the red chilli powder, turmeric powder, coriander powder and salt.
6. Add the lamb pieces and diluted garlic paste.
7. Cook till the lamb is brown.
8. Add the coconut milk along with 1/4 cup warm water.
9. Reduce flame to low and cook till lamb becomes tender and gravy thickens.
10. Add the black pepper powder and lemon juice.
11. Stir well and cook for a minute.
12. Remove and serve hot with rice.
Note: image is for illustration purposes only and not that of the actual recipe.