Savour the juiciness of tender lamb, expertly cooked in a velvety blend of coconut milk and aromatic spices, in this Gosht Lazeez recipe—guaranteed to elevate your dining experience.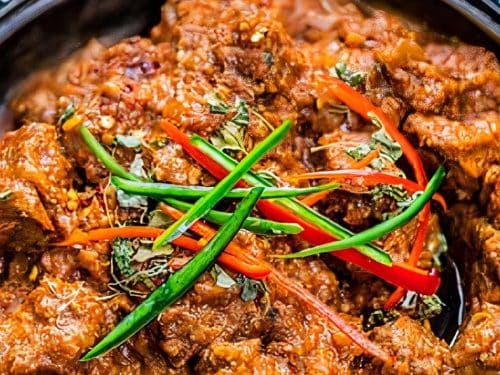 About the Recipe:
Elevate your culinary journey with Gosht Lazeez, a sumptuous lamb dish that effortlessly blends aromatic spices, creamy coconut milk, and expert cooking techniques. This dish promises an explosion of flavours that will transport you to a world of gastronomic delight.
Why You'll Love This Recipe:
Gosht Lazeez is a culinary masterpiece, offering a symphony of flavours and textures. The tender lamb, bathed in a luscious blend of coconut milk and spices, creates a comforting and indulgent dish—a perfect treat for your taste buds.
Cooking Tips:
To achieve perfection, brown the lamb evenly, allowing the spices to infuse their essence. Adding coconut milk gradually ensures a rich, velvety texture. The final touch of black pepper and lemon juice enhances the dish's complexity, making every bite a culinary revelation.
Cultural Context:
Originating from the heart of traditional cuisine, Gosht Lazeez carries the legacy of rich flavours. This dish is often served during festive occasions and reflects the cultural essence of hearty, soulful meals.
Serving and Storing Suggestions:
Serve Gosht Lazeez hot, paired with fragrant rice. The flavours deepen when reheated, making it an excellent choice for leftovers. Store in an airtight container in the refrigerator for up to three days for a delightful encore.
Other Similar Recipes:
Explore more culinary delights with recipes like Chicken Korma and Lamb Biryani, perfect companions to Gosht Lazeez on your gastronomic journey.
Nutrient Benefits:
Lamb provides essential proteins and B vitamins, while coconut milk offers healthy fats. The combination creates a balanced, nutritious meal for a satisfying dining experience.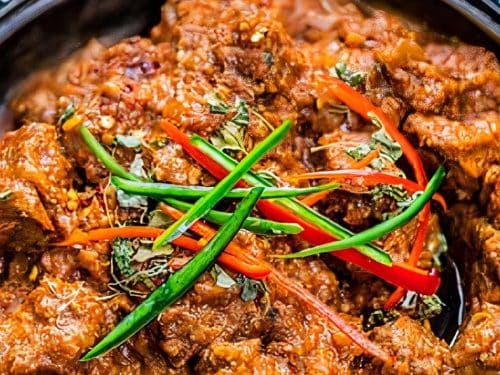 Gosht Lazeez
Savour the juiciness of tender lamb, expertly cooked in a velvety blend of coconut milk and aromatic spices, in this Gosht Lazeez recipe—guaranteed to elevate your dining experience.
Ingredients
500

gms

Lamb (cut into bite-sized pieces)

1/3

cup

Ghee

1

tsp

Coriander Powder

1

tsp

Ginger Paste

1

tsp

Garlic Paste (diluted with 1/3 cup water)

1

cup

Onions (chopped)

2

Dry Red Chillies

1/2

tsp

Red Chilli Powder

1/4

tsp

Turmeric Powder

1

cup

Coconut Milk (thick)

1/2

tsp

Black Peppercorns (coarsely powdered)

1/2

tblsp

Lemon Juice

Salt as per taste
Instructions
Heat ghee in a heavy-bottomed pan over medium flame.

Fry the red chillies for a minute.

Add the onions and saute till translucent.

Stir in ginger paste for 30 seconds.

Add red chilli powder, turmeric powder, coriander powder, and salt.

Introduce lamb pieces and diluted garlic paste.

Cook till lamb browns.

Pour in coconut milk with 1/4 cup warm water.

Reduce flame, simmer till lamb is tender, and gravy thickens.

Add black pepper powder and lemon juice.

Stir well, cook for a minute.

Remove and serve hot with rice.
Frequently Asked Questions (FAQ):
How can I adjust the spice level in Gosht Lazeez?
Start with half the recommended red chilli powder and adjust to your liking. For a milder option, remove the seeds from dry red chillies before frying.
Can I substitute lamb with another meat in this recipe?
Certainly! Chicken or beef can be excellent alternatives, adjusting cooking times accordingly.
Is Gosht Lazeez freezer-friendly?
Absolutely! Allow it to cool completely before transferring to a freezer-safe container. Reheat for a quick, satisfying meal.
What side dishes pair well with Gosht Lazeez?
Enhance your meal with naan or roti for a traditional touch, or opt for cumin-infused basmati rice for a delightful pairing.
Can I use canned coconut milk for this recipe?
Yes, you can substitute fresh coconut milk with canned coconut milk. Ensure it's well mixed before adding to the dish for consistent creaminess.
Note: image is for illustration purposes only and not that of the actual recipe.