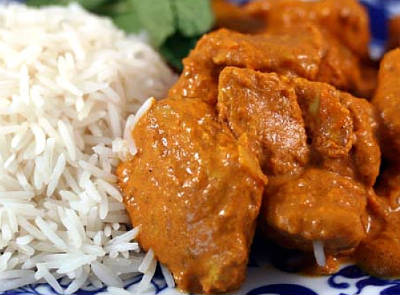 Ingredients:
Chicken – 500 gms, cleaned, washed, chopped
Curd – 1 tsp
Saunf – 1 tsp
Red Chilli Powder – 2 tsp
Peppercorns – 2 tsp
Ginger – 1/4 inch piece, peeled
Sambar Onions – 10, peeled, chopped
Garlic – 5 to 6 cloves, chopped
Clove – 1
Cardamom – 1
Green Chillies – 2, slit
Turmeric Powder – 1/4 tsp
Salt as per taste
Oil as required
Method:
1. Mix the turmeric powder and little salt with the chicken pieces.
2. Keep aside for a minute and rinse under running water.
3. Drain and transfer to a bowl.
4. Add curd, little salt and mix well.
5. Keep aside.
6. Grind together the ginger, peppercorns, cardamom, clove, saunf and red chilli powder to a fine paste.
7. Add this to the chicken and mix well.
8. Marinate for 1 hour.
9. Heat 4 tsp oil in a pan.
10. Saute the onions, saunf, garlic and green chillies for 2 minutes.
11. Add the chicken pieces and stir well.
12. Cover with a lid and reduce flame to low.
13. Simmer for 5 to 6 minutes or until the chicken pieces are cooked.
14. Remove and serve with rice, roti or naan.
Note: image is for illustration purposes only and not that of the actual recipe.
Image credit: Gather.com.
Subscribe to our Newsletter
Receive the latest recipes & kitchen tips !