Also known as Salem Shredded Chicken Fry (or Salem Pichu Potta Kozhi Varuval), this is a popular dish served in restaurants. Ideal as a side dish to any main course or as an evening snack, they can also be used as a filling for wraps.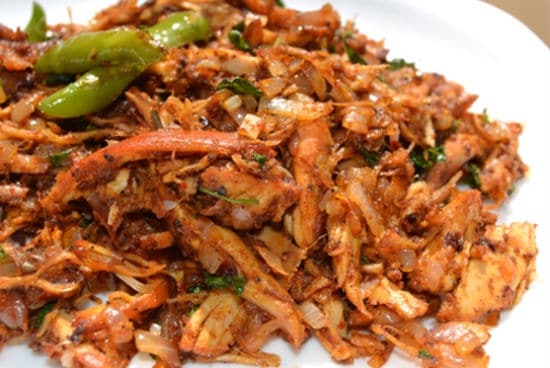 Ingredients:
Chicken – 300 gms, boneless, skinless
Sambar Onions (Shallots) – 50 gms, peeled, chopped
Coriander Powder – 1/2 tsp
Red Chilli Powder – 1/2 tsp
Black Pepper Powder – 1/4 tsp
Ginger Garlic Paste – 1/3 tsp
Turmeric Powder – 1/4 tsp
Saunf – 1/4 tsp
Curry Leaves – few
Green Chillies – 2, small, sliced
Dry Red Chilli – 1
Oil as required
Salt as per taste
Method:
1. Wash, clean and finely shred the chicken.
2. Transfer to a large bowl.
3. Add ginger garlic paste, salt, turmeric powder and mix well.
4. Cook the chicken until tender in a pressure cooked without adding water.
5. Heat oil in a pan over medium flame.
6. Fry the saunf, dry red chilli and curry leaves for 30 seconds
7. Add the onions, green chillies and saute for a minute or two.
8. Add the cooked chicken and stir well.
9. Add coriander powder, salt, red chilli powder and mix well.
10. Cook until the raw smell disappears.
11. Sprinkle pepper powder on top.
12. Stir gently, remove and serve.