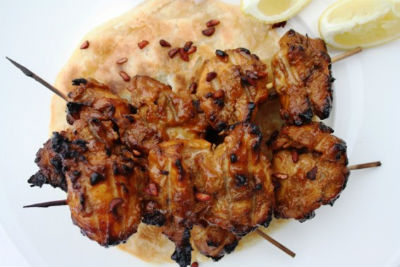 Ingredients:
Chicken Broiler – 1, without skin
Red Chilli Powder – 1 tsp
Lemon Juice – 1 1/2 tblsp
Pomegranate Juice – 1 1/2 tblsp
Hung Yogurt – 1/2 cup, whisked
Ginger Garlic Paste – 2 tblsp
Black Cumin Seeds – 1 tsp
Black Pepper Powder – 1/2 tsp
Garam Masala Powder – 1 tsp
Saffron – 1/2 tsp
Double Cream – 2 tblsp
Butter for basting
Salt as per taste
Method:
1. Make incisions on both sides of the breast, thigh and drumstick.
2. Combine red chilli powder, lemon juice and pomegranate juice in a bowl.
3. Rub this over the chicken evenly and marinate in a fridge for 2 hours.
4. Mix yogurt with the other ingredients and marinate the chicken for 3 hours in a fridge.
5. Skewer the chicken and roast for 10 minutes in a preheated oven/grill at 180C/350F.
6. Remove and drain the excess moisture.
7. Baste with butter and roast for another 4 minutes.
8. Remove and serve hot with roti or rice.
Note: image is for illustration purposes only and not that of the actual recipe.