Marinated, skinless, boneless chicken pieces cooked and tossed in a bowl of onions, tomatoes, cucumber and lettuce. You can also use leftover Chicken Tikka. Best served warm.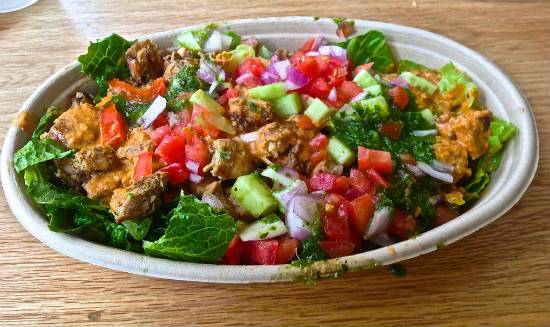 Ingredients:
Chicken Breast – 200 gms, skinless, boneless, sliced
Plain Yogurt – 2 1/2 tblsp
Tomato Puree – 1 1/2 to 2 tsp
Curry Powder – 1 1/2 tsp
Red Chilli – 1, small, chopped
Mushrooms – 1/4 cup, sliced
Tomatoes – 2, small or 1 large, sliced
Carrot – 1, mediu, sliced
Spring Onions – 2, sliced
Cucumber – 2 to 3 tblsp, chopped or sliced
Red Onions – 1, finely chopped
Baby Spinach Leaves – handful, chopped
Coriander Leaves – handful, chopped
Lemon Wedges – to serve
Lettuce Leaves to serve
Oil as required
Method:
1. Mix the tomato puree, yogurt and curry powder in a bowl.
2. Add the chicken and mix well.
3. Cover with clingfilm and keep it in the fridge for 30 minutes.
4. Heat a little oil in a nonstick pan over medium flame.
5. Add the red chillies and fry for a minute.
6. Add the mushrooms and cook until browned.
7. Remove the pan from the flame.
8. Add the tomatoes, spring onions and stir well.
9. Transfer to a serving bowl lined with lettuce leaves.
10. Add the carrot, cucumber, onions, spinach leaves and coriander leaves.
11. Heat little oil in a pan.
12. Add the chicken and cook for 5 to 10 minutes or until slightly browned.
13. Add to the salad bowl and toss well.
14. Serve with raita and lemon wedges.