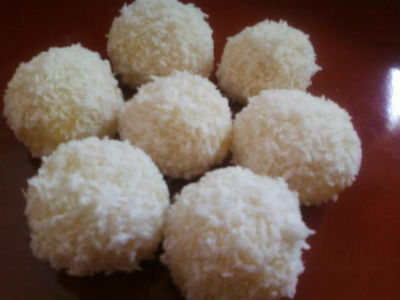 Ingredients:
Egg Whites – 8
Sugar – 1 1/2 cups, granulated
Vanilla Extract – 2 tsp
Grated Coconut – 3 cups, unsweetened
Flaked Coconut – 3 cups, sweetened
Method:
1. Whisk the egg whites, sugar and vanilla extract together until well combined.
2. Add both the coconuts and mix until the coconut is completely coated.
3. Place the dish over simmering water and stir constantly.
4. Keep stirring till the sugar dissolves completely and the mixture becomes glossy and hot.
5. Now spoon 2 tblsp of the mixture onto greased cookie sheets.
6. Do not flatten them and leave them round or shape them into desired shapes.
7. Bake them in a preheated oven at 375 F till the edges turn light golden brown, approximately 10 to 12 minutes.
8. Remove and cool.
9. Peel off the paper and serve.
image credit: food