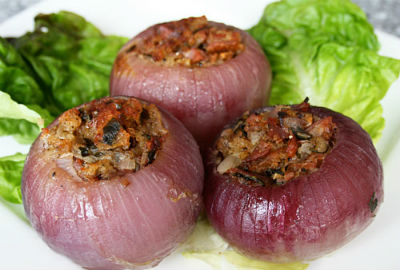 Ingredients:
Onions – 500 gms, peeled, small incisions made on top for filling
Vegetable Oil – 1 1/2 tblsp
Cumin Seeds – 1/2 tsp
Garlic Garlic Paste – 3 to 4 tsp
Green Chillies – 1, slit, deseeded, finely chopped
Coriander Powder – 1/2 tblsp
Red Chilli Powder – 1/2 tsp
Turmeric Powder – 1/2 tsp
Tomatoes – 200 to 250 gms, chopped
Fenugreek Leaves – a pinch, dried, crushed
For the filling:
Dried Mango Powder – 1/2 tsp
Turmeric Powder – 1/4 tsp
Salt as per taste
Coriander Powder – 1/2 tsp
Cumin Powder – 1/2 tsp
Sea Salt – a pinch
Red Chilli Powder – 1/4 tsp
Method:
1. To make the filling, mix all the ingredients in a bowl.
2. Stuff the filling equally between the incisions of the onions.
3. Keep the onions aside for 6 to 12 minutes.
4. Heat oil in a pan.
5. Fry the cumin seeds until they start to crackle.
6. Add the ginger garlic paste and green chillies.
7. Stir-fry for a minute.
8. Mix coriander powder, red chilli powder and turmeric powder in a small bowl with 3 tblsp water.
9. Add this to the pan along with tomatoes.
10. Stir fry and mash the tomatoes using the back of the ladle or fork.
11. Add the stuffed onions and salt.
12. Stir and reduce heat.
13. Cover the pan with a lid and stir from time to time.
14. Cook until the onions are cooked ensuring they do not turn soft and squishy.
15. Sprinkle the crushed fenugreek leaves, stir briefly and remove.
16. Serve hot.
Note: image is for illustration purposes only and not that of the actual recipe.