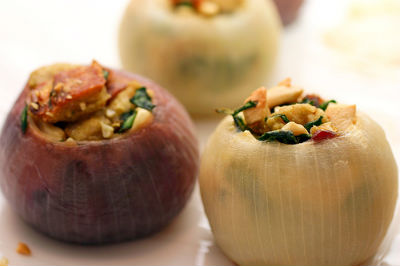 Ingredients:
Onions – 2, large, center removed
Oil – 1 tblsp
Potatoes – 1, diced, fried
Peanuts – 1 tblsp, roasted
Coriander Leaves – 1 tblsp, finely chopped
Turmeric Powder – a pinch
Green Peas – 1 tblsp, cooked
Green Chillies – 2, chopped
Mustard Seeds – 1/4 tsp
Curry Leaves – 2
Vermicelli – 2 to 3 tblsp, broken, dry roasted till golden
Spring Onions – 1, finely chopped
Water as required
Method:
1. Heat oil in a pan.
2. Add the mustard seeds, curry leaves and green chillies.
3. Stir-fry for 30 seconds and add the spring onions.
4. Cook till spring onions are tender.
5. Add turmeric powder, salt and vermicelli.
6. Add enough water and simmer till all water has been absorbed.
7. Add all the remaining ingredients, except onions, and cook.
8. Remove and keep aside.
9. Cook the onions with water and cook till tender.
10. Add the reserved filling inside the onion.
11. Serve hot.
Tip: You can either make a hole in the center or scoop out half the onion.
You can also add the scooped out onions to the filling.
image credit: smitten kitchen