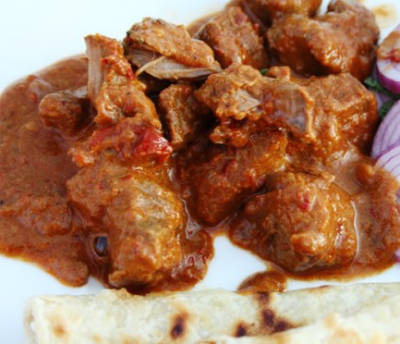 Ingredients:
Mutton – 500 gms, washed, trimmed, chopped
Coriander Seeds – 1/4 tsp, crushed
Mustard Oil – 2 tblsp
Onion – 1, julienned
Dry Red Chillies – 2
Ginger Garlic Paste – 2 tsp
Turmeric Powder – 1/2 tsp
Red Chilli Powder – 1/2 tsp
Coriander Powder – 1 tsp
Salt as per taste
Sugar – 1/4 tsp
Curd – 1/2 cup, whisked
Lime Juice – 2 to 3 tsp
Dry roast and Grind to a powder:
Mace – few pieces
Cumin Seeds – 1/4 tsp
Cardamoms – 2
Cinnamon – a small stick
Cloves – 2
Bay Leaf – 1/4
Method:
1. Heat oil in a deep pan over medium flame.
2. Saute the onions till they start to change colour.
3. Add the red chillies and fry till crisp.
4. Add the ginger garlic paste and fry for a minute.
5. Add the turmeric powder, red chilli powder, coriander powder and mix well.
6. Add some water and mix well.
7. Add the mutton pieces and salt.
8. Fry till the mutton pieces turn golden brown.
9. Add sugar and mix well until the mutton pieces are evenly coated and browned.
10. Reduce flame and add the curd.
11. Stir to mix well until the curd has been absorbed.
12. Cover the pan with a lid and simmer for 30 to 45 minutes.
13. Remove the lid and simmer until the gravy starts to thicken.
14. Add the ground powder and mix well.
15. Add the coriander seeds and simmer for a minute.
16. Remove and transfer to a serving dish.
17. Sprinkle the lime juice and serve hot with roti or rice.