A colourful, delicious and nutritious side dish for rice, roti, paratha or chapati. Great way to get the kids to eat vegetables.
The photograph of the recipe has been taken using Asus ZenFone 5. Zenfone 5 comes with a 2GB Ram, 8 MP camera and a 5 inch capacitive touchscreen. The OS is Android 4.3 (Jelly Bean) and can be upgraded to 4.4 (Kitkat). The Intel Atom Processor and with the 64 GB expandable storage capacity option makes it a powerful, sleek phone packed with features.
The phone's battery also lasts for a long time compared to other phones in this price range. In our test, it lasted almost 24 hours with constant usage.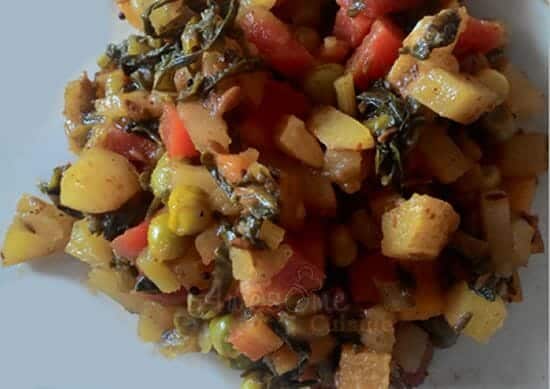 Ingredients:
Radish Greens (Mullangi Keerai) – 1 bunch
Potato – 2 medium or 1 big
Red Carrots – 2 big or 4 medium (If red carrots are not available, use regular carrots)
Peas – 1 cup
Oil – 3 tsp
Mustard Seeds – little
Asafoetida Powder – little
Bengal Gram Dal – 1 tsp
Dry Red Chillies – 2
Salt as per taste
Red Chilli Powder as per taste
Method:
1. Cut the radish greens very finely and wash thoroughly in water to remove all grit and dirt. Drain & keep aside
2. Dice the potatoes and carrots into small pieces
3. Heat oil in a medium pan.
4. Fry the mustard seeds for 10 seconds.
5. Add the bengal gram dal, asafoetida powder and dry red chillies.
6. Fry for another 10 seconds.
7. Add the potatoes and cook for 4 to minutes.
8. Add the carrots and chopped greens.
9. Sprinkle some water, stir once or twice and cover the pan with a lid.
10. Reduce flame and simmer for 10 minutes.
11. Add the peas, salt and red chilli powder.
12. Mix well and sprinkle some water if desired or if it is too dry.
13. Stir to mix well.
14. Cover with the lid and cook for another 10 minutes over low flame.
15. When the vegetables are cooked and soft, remove from flame.
16. Serve hot with rice, roti, paratha or chapati.
Tip: To check if the vegetables are cooked, press them with a spoon or finger. If they feel soft and not too crunchy, then they are done.