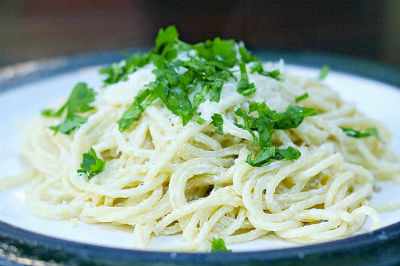 Ingredients:
Spaghettini – 900 gms, dried
Parmesan Cheese – 2 cups, grated
Juice of 2 Lemons
Lemon Zest – 4 tsp
Thick Cream – 2 cups
Butter – 1/2 cup, unsalted
Salt as per taste
Pepper Powder as per taste
Method:
1. Heat a large pot of salted water over moderate flame and bring to a boil.
2. In a small pan add the butter and the cream.
3. Stir and add the lemon juice and zest.
4. Switch off the stove.
5. Add the pasta to the boiling water and cook until al dente.
6. Reserve a cup of the water and drain.
7. Transfer the pasta to a serving bowl.
8. Add the lemon-cream mixture and mix well.
9. Add the cheese, salt and pepper.
10. Toss to mix well and serve hot.
Tip: If desired add some or all of the reserved water after step 8.