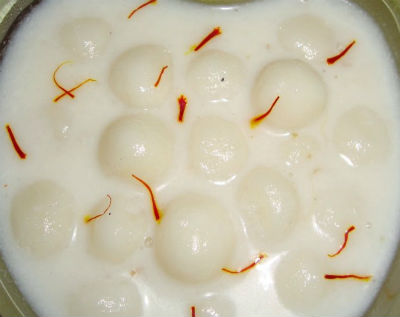 Ingredients:
Raw Rice – 2 cups, washed, soaked in water for 1 hour
Water – 4 cups
Salt – 2 tsp or as per taste
Oil – 2 tsp or as required
Milk – 2 litres, boiled
Coconut Milk – 2 cups
Jagger y – 1 1/2 cups, grated
Cardamom Powder – 1/4 tsp
Saffron Strands – few

Method:
1. Grind the soaked rice to a smooth paste.
2. Heat 1 cup of water in a heavy bottomed pan.
3. Add 1 tsp oil and allow it to boil.
4. Pour the ground rice gradually and stir till no lumps remain.
5. Cook till it becomes thick and shiny.
6. Keep aside to cool.
7. Make small balls and flatten the top lightly.
8. Pour 2/3rd of the boiled milk into a heavy bottomed pan.
9. When it starts to boil, add the small balls one by one and cook in a medium heat for a few minutes.
10. Boil the remaining milk in another pan.
11. When it starts to boil, switch off the flame and add jaggery.
12. Mix well till jaggery has dissolved.
13. Strain the milk to remove any scum and impurities.
14. Mix coconut milk and cardamom powder.
15. When the kozhukattai is cooked, switch off the heat and pour the jaggery milk into it.
16. Mix well and serve, garnished with cardamom powder and saffron strands.
Tip: Do not add jaggery directly to the milk when it is over the flame, it may curdle the milk.
Image credit: subbus kitchen