Homemade Palak Paneer is the best since it tastes fresh and wholesome at the same time.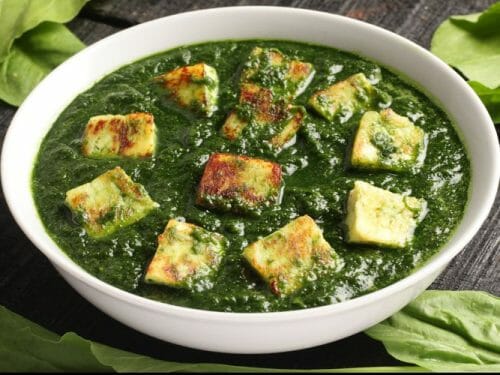 Palak Paneer is probably one of the first paneer recipes that got popular in the common Indian households. The amicable combination of spinach and Indian cottage cheese is simply delicious and so healthy that one can hardly resist having it.
The creaminess of paneer, cream and butter complement the earthy taste of smashed spinach and you get to taste a unique and flavourful side dish. It goes well with rotis, chapatti or even naans. It is a typical North Indian dish but people all over India love it due to its creamy delicious taste.
Some people avoid blanching of spinach to keep its nutrients intact. They simply grind it before cooking to add a wholesome quality to the Palak Paneer recipe. There is a notable difference when you blanch the spinach and therefore you can try both the techniques to judge which one of them suits your taste buds.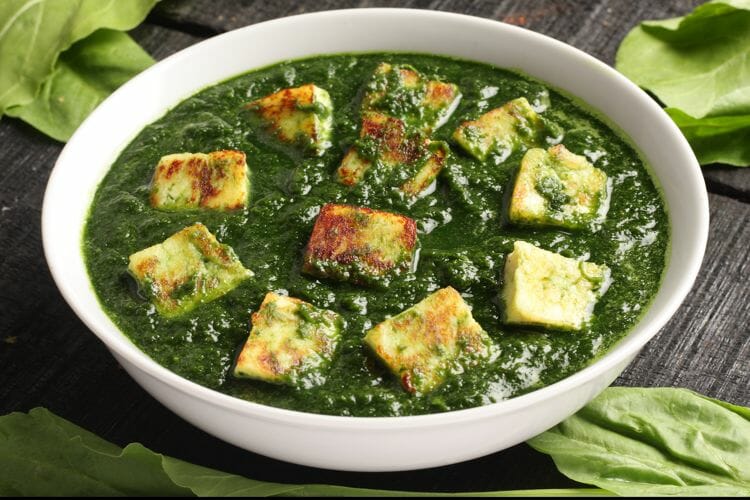 Palak is a superfood in itself since it is loaded with iron, minerals, anti-oxidants, and other nutrients which are important for our overall health. This nutritional value improves exponentially when you add paneer, garlic, and some other vegetables to this recipe. Few cooks also add one small potato (chopped) to append an earthy taste to this recipe.
Avoid using extra dark palak leaves since they are usually plain to taste. Also, ignore the stems and stalks completely as they will make your Palak Paneer taste bitter. Moreover, overcooking might reduce the taste of this dish and you also need to add very less garam masala to keep the authentic taste of this recipe intact.
Kids do not like to eat veggies like Palak but when you combine it with Paneer they will simply love it. Homemade Palak Paneer is the best since it tastes fresh and wholesome at the same time. Cook a big bowl of Palak Paneer today and surprise your family members and kids!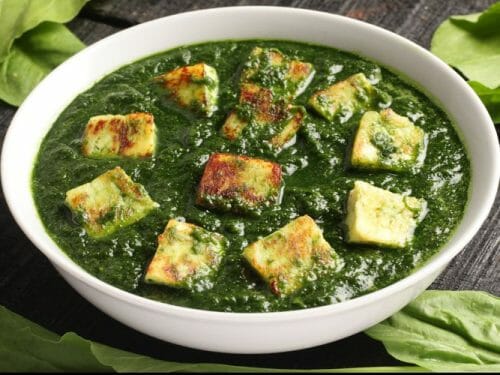 Palak Paneer

Recipe

Homemade Palak Paneer is the best since it tastes fresh and wholesome at the same time.
Ingredients for
Palak Paneer
100

g

Paneer

2

bunches

Palak (Spinach)

1/2

cup

Moong Dal

washed

1

no

Potato

peeled and chopped

1/2

cup

Onion

chopped

1 to 2

no

Green Chillies

1/4

cup

Cream

1/2

cup

Garlic

3

nos

Tomatoes

1

cup

Milk

1

tbsp

Butter

1

tbsp

Cornflour

dissolved with 1/4 cup milk

as per taste

Salt
How to make
Palak Paneer
Cut the paneer into 1/2 inch cubes and keep aside.

Mash and boil the palak in 1 cup water with moong dal and potato for 5 minutes after one whistle in pressure cooker.

Cool and grind in a mixie.

Heat the butter in a pan.

Fry the onion.

Add the garlic and green chillies to it.

Add the grated tomatoes and cook for 2 minutes.

Add the mashed palak along with the cream and 1 cup milk.

Cook for 5 more minutes.

Add salt and the paneer pieces.

Add the dissolved cornflour with the milk to the paneer.

Serve hot with roti or chapati.