Cutting vegetables, fruits or any other food material is a basic step in the cooking process. Sharp objects like knives and cutters are used in this process and hence we have to be careful while using them. Also, these tools should be kept clean at all times since they come in direct contact with the ingredients we use in our recipes.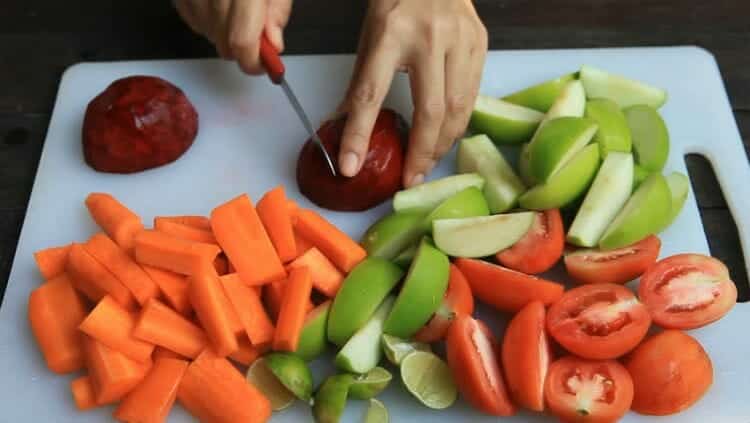 Here are some basic tips that you need to follow while cutting the vegetables:
Use a sharp knife for cutting vegetables and always cut them on a rigid surface. Do not catch the fruits or vegetables in your hand while cutting.
Utilize a cutting board to chop vegetables since they offer a firm surface. However, to avoid slipping of the cutting board from the bottom, you can place it on a hard and moist towel.
Do not leave your fingers free while cutting vegetables. Bend them under the knuckles and do it in a slow and rhythmic manner.
Remove a strip of skin vertically while cutting tomatoes, capsicum, cucumber or any other vegetable that has a smooth shiny surface. This will help you to place the blade of the knife firmly on its surface and the cutting process will be a lot easier.
You must wear plastic gloves while cutting chilies since to avoid your fingers and hand from the burning sensations afterward. If you do not have gloves, you can make use of transparent plastic bags as well.
Remove the leaves first whenever you are cutting a cauliflower. After that, dissect the cauliflower into 4 quarters and remove the hard base with the help of a sharp knife. Now, you can separate the florets with your bare hands.
You can use a pair of sharp scissors instead of a knife for cutting green or red chilies as it will be easier and risk-free. While scrubbing and removing dirt from vegetables, you can use old but clean socks.
Using iron knives or scissors to cut chilies is not recommended since it will turn the mixture blackish later.
Many people cannot tolerate the burning sensation caused while cutting onions. However, you can avoid it easily by using swimming goggles or any goggle that has a thick frame. This will prevent watering of eyes as well.
Using kitchen scissors to cut or trim the sides of bread slices is a better option than using knives since the sides can be trimmed neatly and perfectly only with scissors.
Scissors also prove to be a better option than knives while cutting green veggies like spinach, fenugreek, coriander, etc. However, do not forget to check the blades of the scissors before using as they should not be rusty at any cost.