Curd Vadai (or Thayir Vadai) is a very popular dish across South India. Typically served as a snack, they are also served as part of a meal especially during weddings or special occasions. This variation uses raw banana and is equally delicious as the original.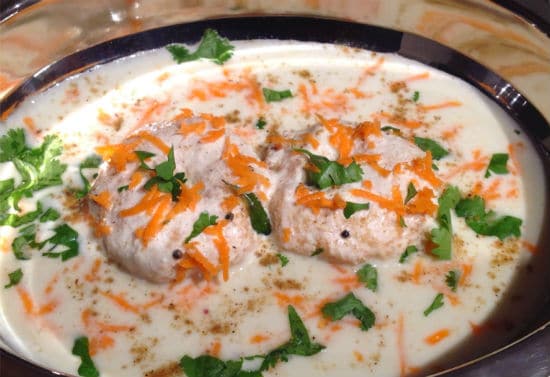 Ingredients:
Plain Curd – 1/2 cup (or more if desire)
Vazhakkai (Raw Banana) – 1
Plain Flour (Maida) – 1/4 cup
Poha (Aval) – 1/2 cup, soaked for 20 to 30 minutes and drained
Coconut – 2 tblsp, grated
Green Chilli Paste – 1/2 tsp
Lemon Juice – 1 1/2 tsp
Garam Masala Powder – 1/2 tblsp
Cumin Powder – 1/2 tsp
Ajwain (Omam) Powder – a small pinch
Coriander Leaves – handful, chopped
Sugar – 1/2 tsp
Kara Boondi – to garnish (optional)
Grated Carrot – little, to garnish (optional)
Oil as required
Salt as per taste
Method:
1. Peel the banana and boil until tender.
2. Mash well and transfer to a bowl.
3. Add coconut, salt, maida and mix well to a chapati dough consistency.
4. Add the green chilli paste to the poha.
5. Add salt, garam masala powder, lemon juice and sugar.
6. Mix well.
7. Make small cups of the banana dough and add some of the poha mixture.
8. Fold well and shape it into a vadai.
9. Heat oil in a deep frying pan over medium flame.
10. Fry the prepared vadais until golden brown.
11. Remove, drain excess oil and transfer to a serving plate.
12. Pour curd on top or soak the vadais in the curd.
13. Sprinke cumin powder, ajwain powder on top and garnish with coriander leaves and kara boondhi.
14. Serve at once.