A popular Kerala style stir fry recipe of Elephant Yam.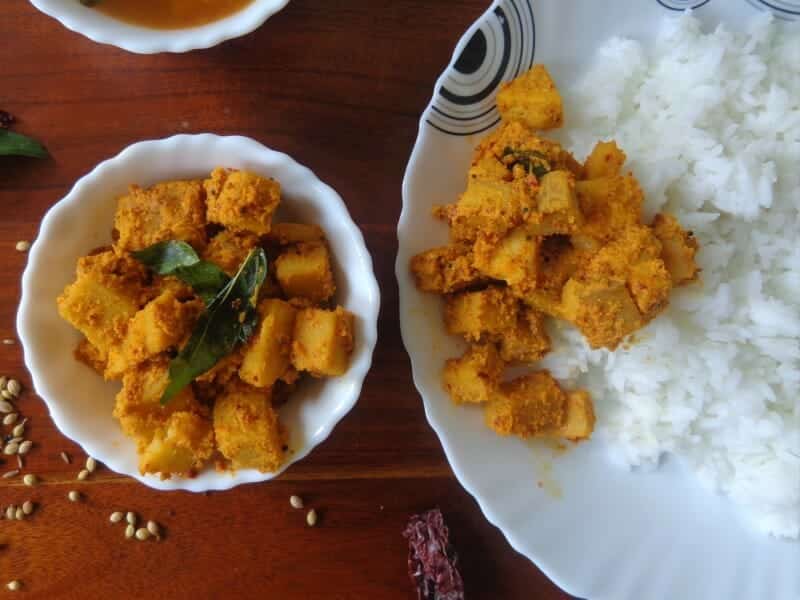 Chena Mezhkkupuratti is a popular Kerala style stir fry recipe of Elephant Yam. Elephant Yam goes by many names like Chena in Kerala, Senai Kezhungu or Senai in Tamil Nadu and Suran across other parts of the country.
This not-so-fashionable, wildly grown tuber, has not yet gained the popularity in the culinary world like the more fashionable tuber – sweet potato. In India, the humble tuber signifies abundance. During the olden days, in many parts of the country, this tuber would grow easily, without much maintenance and would be a rich source of carbohydrates and a few important minerals that would compensate for meals during seasons of no or minimal harvest. In some instances, this tuber would act like a meat substitute, especially when meat would be more expensive or difficult to procure. In certain tribes of Africa, the largest tuber is usually handed over to the chieftain, thus reiterating its significance with abundance.
Chena or Yam is usually boiled well and treated with a barrage of spices when cooked to rid it of alkaloids or allergen properties that cause itching and swelling when consumed raw. Popular ways of cooking the yam are making it a stir fry, roasted or fried with spices, making it into a curry/kadhi or converting it into kebabs.
Read on to know how to make Chena Mezhkkupuratti or popular Kerala style stir-fried Elephant Yam. Serve this dish with steaming hot rice.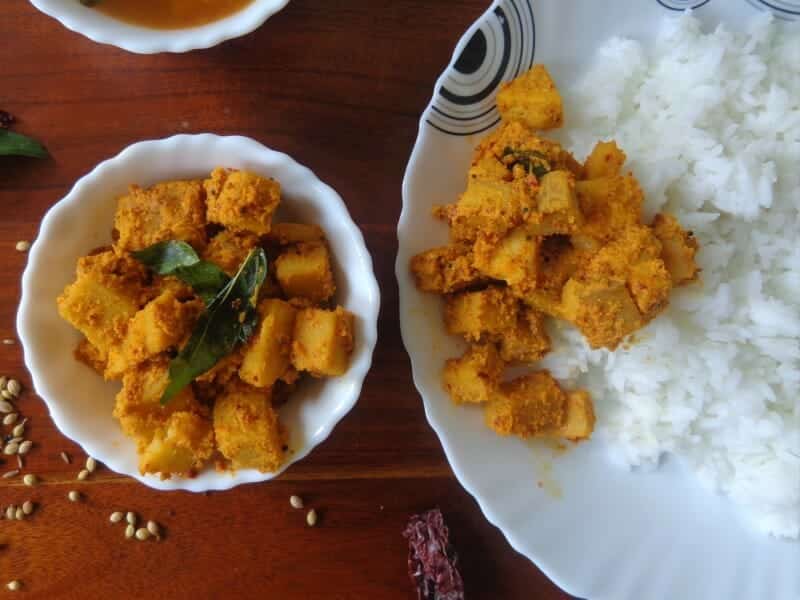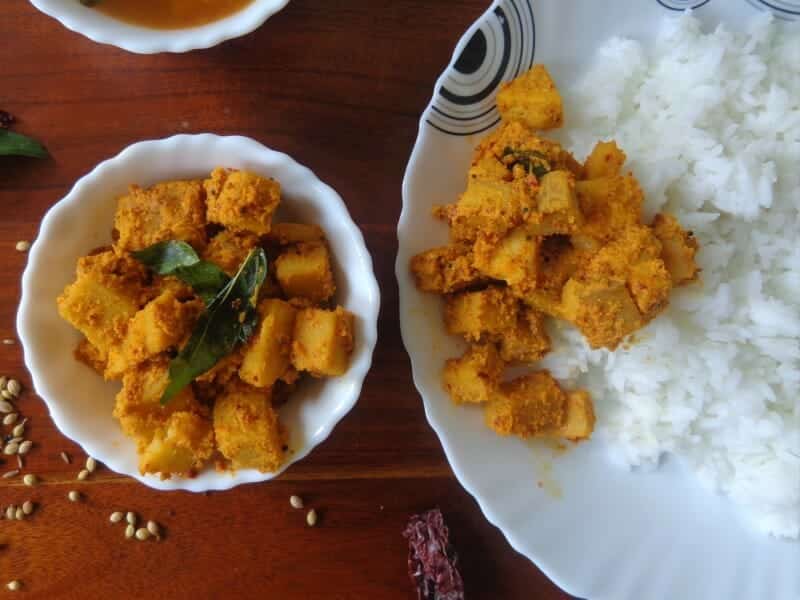 Chena Mezhkkupuratti
A popular Kerala style stir fry recipe of Elephant Yam.
Ingredients
500

g

Yam

15

Shallots

6

Garlic Cloves

1

tsp

Mustard Seeds

1

tsp

Fennel Seeds

2

tsp

Red Chilly Powder

1

tsp

Coriander Powder

1/2

tsp

Turmeric Powder

1/2

tsp

Pepper Powder

4

tbsp

Coconut Oil

as per taste

Salt
Instructions
Wash well and remove the outer skin of the yam and cut them into thin slices.

Grind the shallots along with garlic to a fine paste.

Boil the yam pieces and keep it aside. Do not boil it fully.

Heat oil in a pan and temper with mustard and fennel seeds.

Add the onion-garlic paste, chilly powder, turmeric powder, coriander powder, pepper powder and salt as per taste.

Cook until raw smell of the powders disappear.

Add the cooked yam slices and reduce the flame to medium.

Coat the yam pieces well with the gravy.

Roast the yam until golden brown.

Sprinkle the coriander leaves on top and serve hot with steamed rice.
Image Credit