A simple recipe that can served as an accompaniment to a meal or as a snack. Typically made during festive occasions in South India, esp. TamilNadu.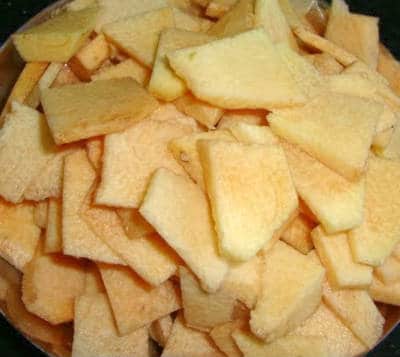 Ingredients:
Senai Kizhangu (Elephant Yam) – 250 gms
Salt – 1 1/2 tsp
Red Chilli Powder – 1 tsp
Asafoetida Powder – 1 tsp
Turmeric Powder – 1/4 tsp
Rice Flour – 1 tblsp
Gram Flour – 1/2 tblsp
Oil – 250 ml
Method:
1. Wash and clean the senai kizhangu well.
2. Peel and slice them into small squares or circles.
3. Add enough water (till all the pieces are submerged), 1/2 tsp salt, turmeric powder and bring to a boil. Do not boil for long otherwise it will become mushy mushy.
4. Drain and keep aside.
5. Mix rice flour, gram flour, remaining salt, red chilli powder and asafoetida powder in a bowl.
6. Dip the sliced yams in this.
7. Heat oil for frying.
8. Fry till light brown and remove.
9. Drain excess oil.
10. Serve at once.
11. If left in open for long, it will lose the crispiness.