Crisp and crunchy, Almond Biscotti is a traditional Italian Christmas cookie served during teatime as a snack.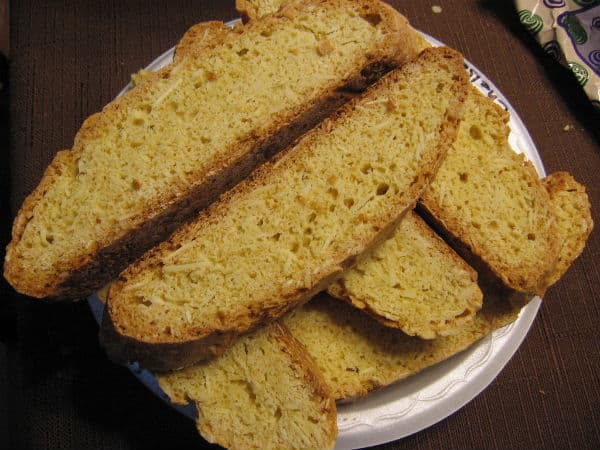 Ingredients:
Egg – 1
Flour (All-Purpose Flour or Whole Wheat Flour) – 3/4 cup
Granulated Sugar – 1/4 cup
Oil – 1/4 cup
Star Anise Powder – 1 tsp
Baking Powder – 3/4 tsp
Almonds – 1/3 cup, sliced and toasted
Method:
1. Whisk the egg, sugar, oil and star anise extract in a bowl until well blended.
2. Add the baking powder, flour and mix well.
3. Add the toasted almonds.
4. Transfer to a greased baking sheet.
5. Using floured hands, form dough into long 2 inch wide strip. Repeat with any remaining dough ensuring they are kept atleast 2 inches apart.
6. Place the baking tray into a preheated oven at 350F for 20 minutes or until firm and bases are golden.
7. Remove and cool on wire rack for 5 minutes.
8. Using a sharp knife, slice the strips diagonally into 1/2 inch thick slices.
9. Place them flat on a baking tray keeping them 1/2 inch apart.
10. Bake again for 10 to 15 minutes turning over halfway until lightly toasted.
11. Remove, cool and sprinkle some icing sugar on top.
12. Store it in an air-tight container for up to 2 weeks.
Tip: You can also freeze them for up to 2 months.