The eternal favourite for a sumptuous weekend lunch or a party, the modern day chicken biryani originated in Persia, and was brought to India by the Mughals. A classic layered delicacy of the Muhgal Nizams, biryani is a true sensory delight – from eye-catching visuals to the heavenly aroma to its finger-licking good taste. Biryani (also known as biriani) is a mixed rice dish prepared with spices, rice, and meat. It contains more gravy and is often cooked for longer with additional condiments. The meat and rice are cooked separately before being layered and cooked together.
Interestingly, what confuses most people is the difference between a normal chicken biryani and a chicken dum biryani. In a normal chicken biryani, the meat is fried separately and then added into the rice whereas in dum biryani the entire rice, meat, potatoes, etc. are cooked by the steam and pressure created in the sealed vessel. While the dum version is slow cooked and more time consuming, we'd say none supersedes the other in the deliciousness quotient.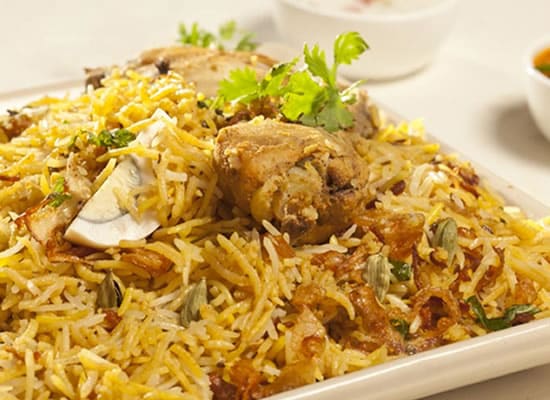 Did you know there are different variations of biryani based on the geographical locations and regions? Here's a lowdown on some of the popular chicken biryani versions – check them out and take your pick!
#1 Mughlai Biryani
Mughlai biryani is nothing short of a double treat with double the quotient of richness, flavor, taste, and sumptuousness. Mughlai cuisine is often associated with a unique aroma, richness and the taste of whole ground spices, while the flavors could vary from extremely mild to fiery hot.
Mughlai chicken biryani is a layered biryani, where in the chicken gravy and rice are cooked separately and then brought together as layers in a pot and dum cooked in low heat, making it an exotic biryani preparation with the exclusive aroma of freshly ground spices and herbs along with the richness of nuts, butter or ghee. A perfect one-dish meal that comes with the guarantee of filling your tummy and your heart alike!
One of the most popular biryani versions in India, this one is also called as Kutchi (raw) Biryani. Pre-marinated chicken pieces wrapped in a mixture of spices for a few hours are placed into a vessel (handi). A rice and yogurt mixture is put on top of the chicken before sealing the vessel and cooking (dum cooked). All the ingredients are carefully balanced so that everything cooks well together and comes out perfectly fine.
Lucknow Biryani is also called Awadhi Biryani, a form of Pukki (cooked) Biryani. In this both the chicken pieces and the rice are cooked separately and then layered before being cooked together. This process also lives up to the Farsi meaning of the word 'Biryani', which means 'fry before cooking'. The result is a perfectly cooked mixture of chicken meat, rice, and a homogenous flavor of aromatic chicken broth, whole spices, and sweet flavors from a sweet fragrant mixture of rose and kewra water.
Sindhi biryani originates from the Sindh province of Pakistan. When compared with the regular biryani, the Sindhi Biryani is more spicy and delicious with its usage of a set of dedicated Sindhi spices, making it a unique and distinct delicacy among the biryani tribe.
A delectable representation of the cultural blend of Mughal and Malabari cuisines, Malabar Biryani has rice with a tinge of green due to the concentration of fresh coriander and the separate grains glistening with flavored ghee. Hot spicy masala filled with the flavor and hotness of green chilies, black pepper, and other herbs, lends this one its fiery taste. The light and tender rice grains harmoniously blend with the masala to create a delightful combination.
#6 Dindigul Biryani
Originating from a place named Dindigul in Tamilnadu, this biryani is extremely easy to make. However, unlike the other biryani recipes which use basmati rice, the Dindigul biryani is best made with Jeera Chamba Rice, known for its distinct taste and the well fluffed up grains. A simple yet superb recipe that can blow your mind away with the incredible combination of flavors and spices cooked to flawless perfection.
Everyone loves biryani, but most of us take a step back when it comes to preparing the dish due to its long and tedious process. But take our word for it – once you know and learn the right method, biryani is such an easy, quick and enjoyable recipe that there'll be no stopping you! You will love and adore these extremely rich and flavorful biryani variations that are sure to rustle up your appetite at every occasion.