A simple, delicious and nutritious fried rice with cauliflower and shrimps.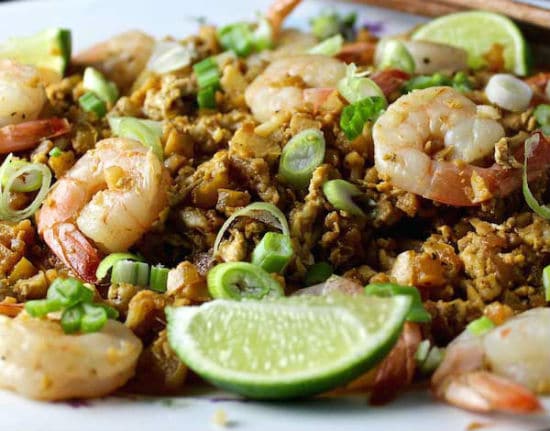 Ingredients:
Shrimps – 125 gms, peeled, deveined
Cauliflower – 2 to 2 1/2 cups, finely chopped
Sesame Oil – 1/2 tsp
Egg – 1
Olive Oil – 1 1/2 tsp
Ginger Garlic Paste – 2 tsp
Cabbage (preferably Chinese Cabbage or regular ones will do) – 1 cup, coarsely chopped
Carrots – 1/2 cup, shredded
Sea Salt as per taste
Red Chilli Flakes – 1/4 tsp
Spring Onions – 2, finely chopped
Coriander Leaves – handful
Lime Wedges to serve
Method:
1. Break and lightly beat the egg.
2. Heat sesame oil in a large pan over medium flame.
3. Add the beaten eggs and stir gently until set.
4. Remove and keep aside until cool.
5. Cut into small pieces
6. To the same pan, add olive oil.
7. Add the ginger garlic paste and stir-fry for 10 seconds.
8. Add the cabbage, carrots and cook for a minute.
9. Add the finely chopped cauliflowers.
10. Cook for 3 to 4 minutes or until soft and tender.
11. Add the shrimps.
12. Add salt and pepper powder.
13. Stir well and cook until the shrimps are opaque.
14. Add the eggs and spring onions.
15. Cook for another minute or two.
16. Garnish with coriander leaves.
17. Serve with lime wedges.