A delicious salad that can be served on the side or as a main dish.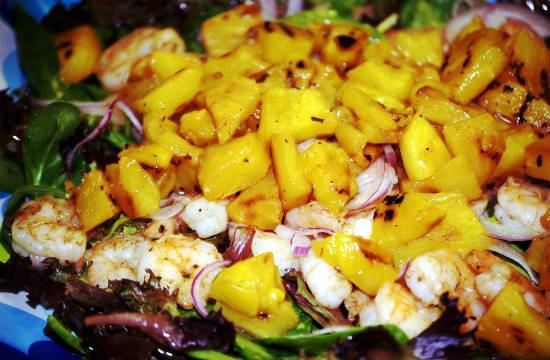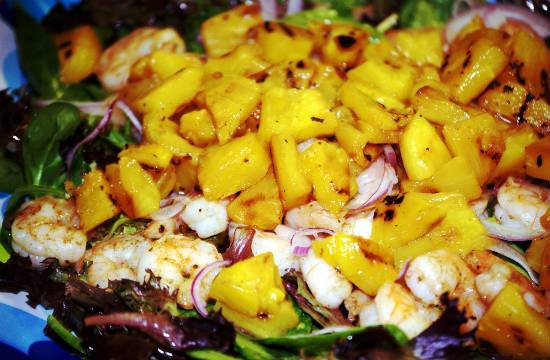 Ingredients:
Shrimps – 10 to 12, tails intact
Pineapple – 275 gms, chopped
Pineapple Juice – 3 tsp
Honey – 1 1/2 tsp
Rice Wine Vinegar – 1 1/2 tsp
Salt as per taste
Garam Masala Powder – 1/4 tsp
Chaat Masala Powder – 1/8 tsp
Extra-Virgin Olive Oil – 1/4 cup
Mint Leaves – few, chopped to garnish
Salad Greens as required
Wooden Skewers – few, soaked in water for 30 to 45 minutes
Method:
1. Mix the olive oil, pineapple juice, rice wine vinegar, honey, salt, garam masala powder and chaat powder in a bowl.
2. Add the shrimps and pineapples.
3. Gently toss well and keep aside for 5 minutes.
4. Skewer the shrimps and pineapple pieces. Reserve the marinade mixture.
5. Heat a grill over medium flame.
6. Place the skewers on the grill and brush them with the marinade few times.
7. Grill for 2 to 3 minutes or until the shrimps are opaque.
8. Remove and cool.
9. Transfer to a large serving bowl filled with the salad greens.
10. Sprinkle some mint leaves and any remaining marinade.
11. Serve at once.