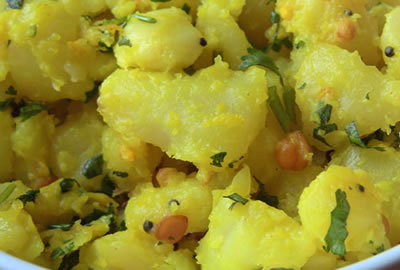 Ingredients:
Potatoes – 3, boiled, peeled and cubed
Tomato – 1, chopped
Salt – as per taste
Grind to a paste:
Coconut – 1/2 to 3/4 cup, grated
Dry Red Chillies – 3, broken
Tamarind – small ball
Water – 1/4 cup
For Tempering:
Oil – 3/4 tblsp
Mustard Seeds – 1/2 tsp
Asafoetida Powder – a pinch
Fenugreek Seeds – a pinch
Curry Leaves – handful
Method:
1. Heat a pan over moderate heat.
2. Add the potatoes, tomatoes and salt.
3. Add the ground paste and 3/4 cups of water.
4. Increase heat to high and cook till it becomes semi-solid.
5. Reduce heat and simmer for 3 to 5 minutes.
6. Remove from heat and keep aside.
7. Heat oil for tempering and add mustard seeds.
8. When it starts to splutter, add the remaining ingredients.
9. Fry for 30 seconds and pour this over the potatoes.
10. Mix well and serve hot.