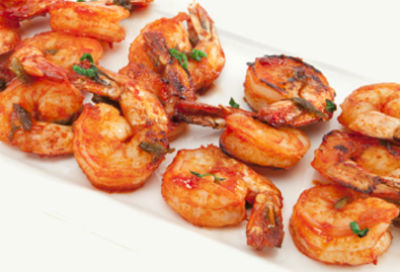 Ingredients:
Shrimps – 250 gms, shelled, deveined
Oil – 1 tblsp
Garlic – 2 cloves, minced
Spring Onions – 2, chopped lengthways
For the chilli sauce:
Chilli Sauce – 1 tblsp
Tomato Ketchup – 1/2 tsp
Sugar – 1/4 tsp
Salt – 1/2 tsp
Sesame Oil – 1/2 tsp
Corn Flour – 1 tsp, mixed with 1/4 cup of water
For the marinade:
Chinese Rice Wine – 1 tblsp
Sesame Oil – 1/2 tsp
Ginger – 1/2 tblsp, minced
Sugar – 1/4 tsp
Method:
1. Combine the marinade ingredients in a large bowl and mix well.
2. Add the shrimps and toss well to evenly coat them with the marinade.
3. Keep aside for 20 to 30 minutes.
4. In a different bowl, mix the sauce ingredients and keep aside.
5. Heat oil in a pan over medium flame.
6. Add the garlic, marinated shrimps and stir-fry for a minute or two.
7. Add the chilli sauce and cook for a minute more.
8. Add the spring onions and stir well for 30 to 45 seconds.
9. Transfer to a serving plate.
10. Serve at once.