Jamun (or Gulab Jamun) is a very popular Indian sweet made and served during festivals or special occasions. This variation is made using peanuts and is as tasty as the original one.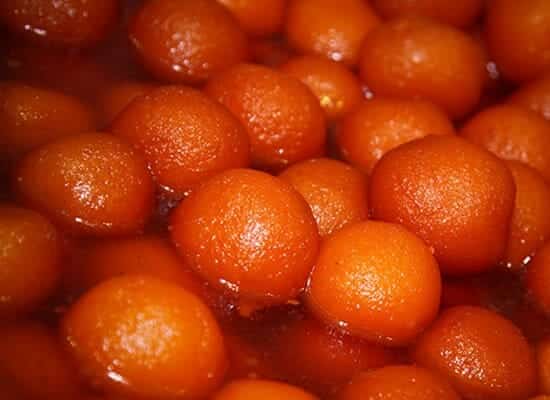 Ingredients:
Raw Peanuts – 2 cups
Ripe Bananas – 2
Sugar – 2 cups
Ghee – 2 tsp
Oil as required
Method:
1. Cook the peanuts and grind to a thick paste.
2. Mash the bananas and combine it with the peanut paste.
3. Add ghee and mix well.
4. Make small balls of the mixture and keep aside.
5. Heat a pan of water over medium flame.
6. Add the sugar and stir until fully dissolved.
7. When it reaches an one-string consistency switch off the flame.
8. Heat oil in a deep frying pan over medium flame.
9. Deep fry the prepared balls until golden brown.
10. Remove and drop them in the sugar syrup.
11. Let it soak for an hour or so.
12. Keep them in the fridge and serve as required.
Subscribe to our Newsletter
Receive the latest recipes & kitchen tips !