Poli is a popular dessert sweet made during festivals and special occasions. With numerous variations of this available depending on which city/state you are, these are typically served as an evening snack or as a sweet after a meal. This is one such variation made with Rava (Sooji).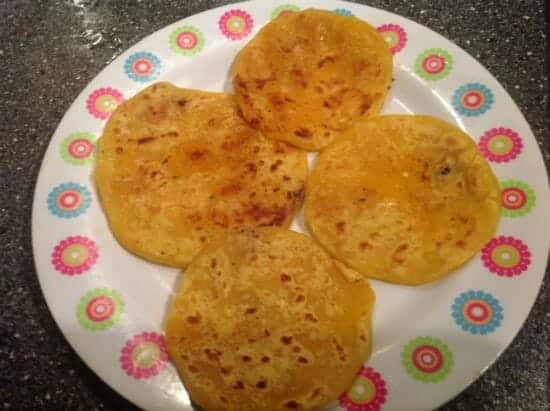 Ingredients:
Rava – 2 cups
Maida (Plain Flour) 2 cups
Wheat Flour – 1/2 cup
Jaggery – 2 cups, powdered
Coconut – 2 cups, grated
Cashew Nuts – 2 tblsp
Ghee – 1/2 cup
Cardamom Powder – 1/2 tsp
Salt – 1/2 tsp
Method:
1. Combine the maida, wheat flour and salt in a bowl.
2. Add little water and mix well.
3. Add a little ghee and mix again.
4. Keep aside for 3 to 4 hours.
5. Heat ghee in a heavy bottomed pan over medium flame.
6. Fry the cashew nuts until golden and keep aside.
7. Add the rava and roast until golden.
8. Add the grated coconut and stir well.
9. Add enough hot water to jaggery and mix well to make a thick syrup.
10. Strain to remove any impurities.
11. Add the jaggery water to the pan and stir until it starts to thicken.
12. Make small balls of the dough and shape them to a small circle (like a papad/appalam).
13. Add 1 or 2 tblsp of the rava mixture to the center and fold well.
14. Roll this out carefully to a small cirlces (these are now called polis).
15. Heat a nonstick tawa over medium flame.
16. Cook the prepared polis on both sides for a minute.
17. Serve.