Chicken Tikka Biryani is a very popular and delicious lunch or dinner dish. Chicken pieces are marinated in a yogurt and spices mixture, grilled and combined with cooked basmati rice. Serve with raita or side dish of choice.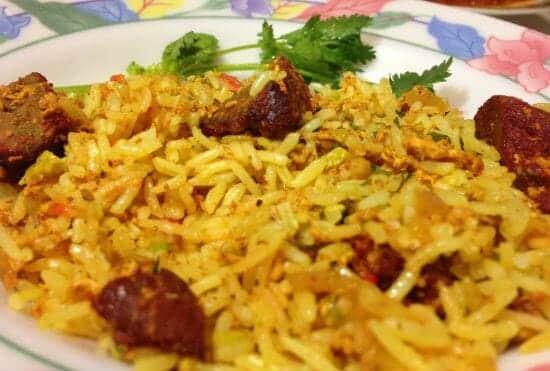 Ingredients:
Basmati Rice – 500 gms
Chicken – 500 gms, boneless, skinless, cubed
Onions – 200 gms, sliced
Green Chillies – 2
Curd – 1/4 cup
Cumin Powder – 2 tsp
Red Chilli Powder – 2 tblsp
Coriander Powder – 1 tblsp
Ginger Garlic Paste – 4 tblsp
Cinnamon – 1 tsp
Cardamoms – 8 to 10
Star Anise – 2
Cloves – 4 to 5
Garam Masala Powder – 1/2 to 3/4 tsp
Salt as per taste
Oil – 50 ml
Ghee – 100 ml
Lemon Juice – 4 to 5 tsp
Coriander Leaves – handful
Mint Leaves – handful
Wooden Skewers – few, soaked in water for 30 minutes
For the Chicken Tikka Masala:
Red Chilli Powder – 2 tblsp
Cumin Powder – 2 tsp
Tandoori Masala Powder – 1 tsp (available in supermarkets)
Kasuri Methi – 1 tsp
Thick Curd – 2 tblsp
Lemon Juice – 2 tsp
Salt as per taste
Oil as required
Optional (For Garnishing):
Fried Cashewnuts
Fried Raisins
Method:
1. Heat 1 litre of water in a pan over medium flame.
2. Add the chicken pieces and sprinkle little salt.
3. Simmer until the chicken pieces are three-fourths cooked.
4. Switch off the flame.
5. Drain and reserve the water. Keep the chicken pieces aside until required.
6. To make the chicken tikka masala, combine all the ingredients, except oil, and grind them to a thick paste without adding water.
7. Rub this paste all over the chicken pieces and keep aside for 30 minutes.
8. Heat little oil in a shallow frying pan over low flame.
9. Fry the chicken pieces on both sides and remove.
10. Drain excess oil.
11. Skewer the chicken pieces and place them on a preheated grill pan.
12. Grill until slightly blackened and remove.
13. Keep aside in a warm place.
14. Wash the rice 2 to 3 times and soak for 45 to 60 minutes in enough water.
15. Heat ghee and oil in a pressure pan over medium flame.
16. Fry the cinnamon, cloves, cardamoms and star anise for 30 to 40 seconds.
17. Add the onions, green chillies and garam masala powder.
18. Stir well and saute for 2 minutes.
19. Add the mint leaves, coriander leaves, ginger garlic paste and stir well.
20. Cook for a minute or two.
21. Add red chilli powder, coriander powder, cumin powder and stir again.
22. Add curd, lemon juice and simmer until the oil starts to separate.
23. Drain and add the rice and stir gently until well combined.
24. Add the reserved water and little salt.
25. Cover the pan with a lid and cook until 1 or 2 whistles or until the rice is fully cooked.
26. When the pressure has reduced, fluff up the rice using a fork.
27. Add the chicken pieces and mix once or twice. Take care not to break the rice.
28. Cover the pan with the lid and keep aside for 5 to 10 minutes.
29. Serve warm with a choice of side dish or with raita.
Note: If you do not have a grill pan, you can cook it directly over flame for 20 to 30 seconds.