A quick, delicious and classic Mexican dish, these spinach quesadillas make a great lunch or dinner.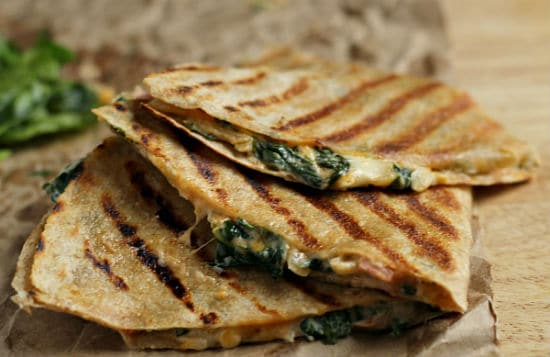 Ingredients:
Spinach Leaves – 4 cups, washed, chopped
Oil – 2 tsp
Onion – 1, chopped
Jalapenos – 1, seeds removed, diced
Oregano – a pinch
Coriander Leaves – 1/4 cup, chopped
Wheat Tortillas – 4, medium (recipe here)
Cheese – 2 tblsp, grated
Salt as per taste
Optional:
Tomatoes – 1/4 cup, chopped
Mushrooms – 1/2 cup, chopped
Method:
1. Heat oil in a pan.
2. Saute the onions, jalapenos and oregano for 2 minutes or until onion is translucent.
3. Add the spinach leaves.
4. Add a little salt and cook for 2 minutes or until the leaves are tender and wilted.
5. If the spinach is dry, sprinkle a little water.
6. Add the coriander leaves.
7. Adjust salt and remove from flame.
8. Warm the tortillas on both sides.
9. Sprinkle cheese and some of the spinach mixture.
10. Place another tortilla on top and cover.
11. Cook over medium flame until the bottom tortilla is a little crisp.
12. Flip it over and cook on the other side for a minute.
13. Remove and cut into quarters.
14. Serve warm with salsa and sour cream.