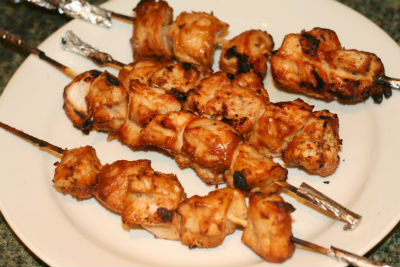 Ingredients:
Tomato – 1, peeled, chopped, seeds removed
Chicken Breasts – 350 gms, boneless, skinless, cubed
Plain Yogurt – 1/4 cup
Lime Juice – 1 tblsp
Coriander Powder – 1/2 tsp
Cumin Powder – 1/2 tsp
Ginger – 1/2 tblsp, grated
Garlic – 1, clove, minced, crushed
Salt as per taste

Method:
1. In a large bowl mix together the yogurt, lime juice, coriander powder, cumin powder, tomatoes, ginger, garlic and salt.
2. Thread the chicken cubes onto metal skewers.
3. Place them in a baking dish and spoon over the marinade.
4. Cover and marinate for 6 to 12 hours in a fridge.
5. Remove and place the skewers on a preheated grill.
6. Grill for 2 to 3 minutes on each side or till the chicken is cooked.
7. Remove and serve hot with mint chutney.
Tip: If you are using wooden skewers do not leave any space between the chicken pieces and wrap the ends with aluminum foil to prevent burning.