A delicious and popular North Indian curry with prawns cooked in a coconut milk sauce and spices. This can be served with plain, cooked basmati rice or jeera rice. Can also be served alongside rotis, naans or parathas.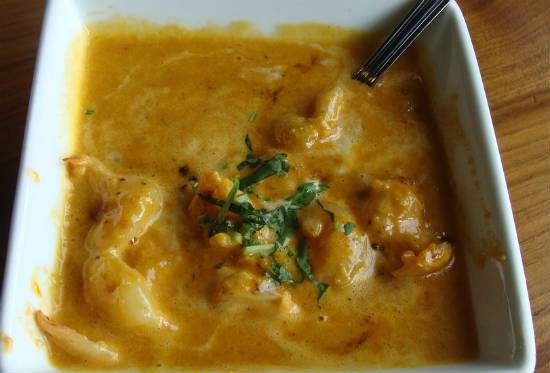 Ingredients:
Prawns – 300 gms, cooked, peeled
Ginger Garlic Paste – 2 to 3 tsp
Onion – 1, small, finely sliced
Oil – 3 tsp
Coconut Milk – 100 ml
Vegetable Stock – 1/3 cup
Grated rind and juice of 1/2 Lime
Coriander Leaves – handful, chopped
Coriander Powder – 2 tsp
Cumin Powder – 2 tsp
Turmeric Powder – 1/4 tsp
Salt as per taste
Black Pepper Powder as per taste
Method:
1. Heat oil in a pan over medium flame.
2. Add the onions and ginger garlic paste.
3. Saute until onions turn golden, about 2 to 3 minutes.
4. Add the turmeric powder, coriander powder and cumin powder.
5. Stir well.
6. Add the coconut milk and vegetable stock.
7. Bring to a gentle boil and reduce flame.
8. Simmer for a minute.
9. Add the prawns, lime juice and grated rind.
10. Stir and simmer for a minute or two.
11. Sprinkle salt, pepper powder and coriander leaves.
12. Stir again.
13. Remove and serve with basmati rice or jeera rice.